The bohemian style favors patterns, textures, and colors over structure. A bohemian aesthetic main idea is to be characterized by personality and relaxation. The goal of styling boho is not to please others but rather to please yourself by creating the style that fits your needs and aesthetics just the way you want.
In other words, boho style in interior design intends to make you feel the most comfortable at home because what can be better than creating something yourself!
Today's topic is all about our boho bedding selections intended to inspire you when shopping for your new bedding next time. Here are our top 7 bohemian bedding ideas that will make your bohemian bedroom even better! 
What is boho bedding? 
It is, just like any other bedding, a set of mattress covers and pillowcases, along with the bed cover cases but styled to be in bohemian style. Boho bedding prefers maximalism over minimalism and comes in many colors, patterns, and textures. There are types of boho bedding that mix two or three colors, and it is usually colored in neutrals, while manufacturers can also color it in cool or warm colors.
Do you need boho bedding?
If your bedroom is in bohemian style, the answer is yes because it would fulfill the overall feeling even more. Even if your bedroom is not in bohemian style, you can still combine the bedding with other interior design styles.
In both cases, whether your bedroom was in bohemian style or not, you can always experiment in combining different things to make your living space even better, which not only is related to this topic but to many things in life!
French boho bedding
The critical feature of french boho bedding lies in the textures and the patterns. There is no right or wrong in patterns and textures in boho styling. You should go for anything you like and give your home a personalized touch. Colors such as purple, green or yellow are great to express some energetic vibes.
You can also use multiple duvets to create a more luxurious look. You can pair the bedding with the rest of the elements of your bedroom quite easily. Choosing the pieces you like and arranging them to make you feel comfortable is essential.
Striped pillows and unique wall art are great for pairing with french boho bedding. You can also try using textured rugs or some storage items to give your home a bit more texture.
Scandinavian boho bedding
Via myscandinavianhome West Elm Stella bed, pick up a bright coloured kantha quilt here, this is a good source for a beni ourain rug. 
Scandinavian boho bedding is perfect if you want to achieve a cozy look in your home. Try experimenting with different textures and neutral colors to get a welcoming feel. It would be best if you paired Scandinavian boho bedding with neutral-colored furniture and neutral-colored walls.
As far as textures go, you can add some storage items or get a nice soft-textured rug that will add to your bedroom's coziness. You can also pair Scandinavian boho bedding with some minimalistic wall art. When it comes to lighting, try to create a layered effect. That means that you should get multiple light sources to make your home practical, beautiful and highlight some of your home's signature items.
Black and white boho bedding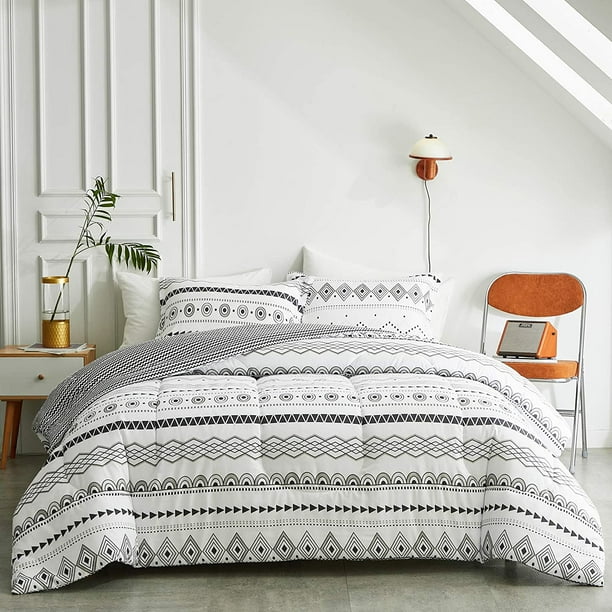 Via Walmart
Going for a black and white look is perfect for achieving a retro and vintage feel in your home. Black and white boho bedding can look very nice in almost any bedroom. There are so many black and white boho bedding patterns, so there is plenty to choose from. You can pair this type of bedding with almost anything.
Going for a soft textured rug is a great idea. Lovely addition to the whole look of your bedroom can be some photo prints. Black and white photo prints go perfectly with black and white boho bedding.
You can even take your photos and print them out on thicker paper. After that, you should get a nice frame or even make your frame. By doing that, you are not only making your home look more beautiful; you are also making it look personalized.
Earthy boho bedding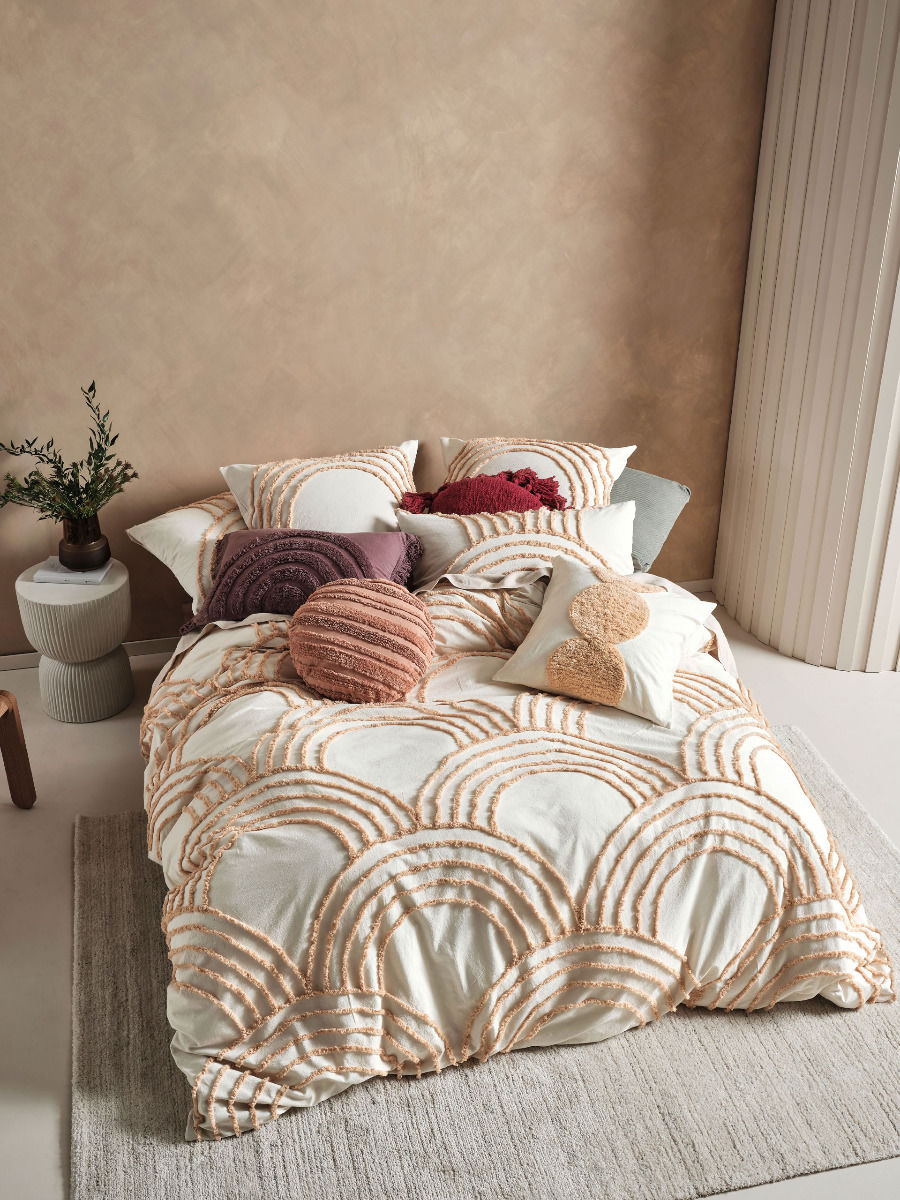 Via linenhouse.com
Earthy tones of boho bedding can give your home a unique and refined look. Try going for brighter tones if you want to bring more energetic vibes into your bedroom. If you're going to have a cozier and more welcoming look, you should go for some brown shades instead of yellow and orange.
You can pair earthy boho bedding with many things. The best option is to go for a rustic look. Try implementing some baskets or some textured rugs to achieve a rustic feel.
Cool colors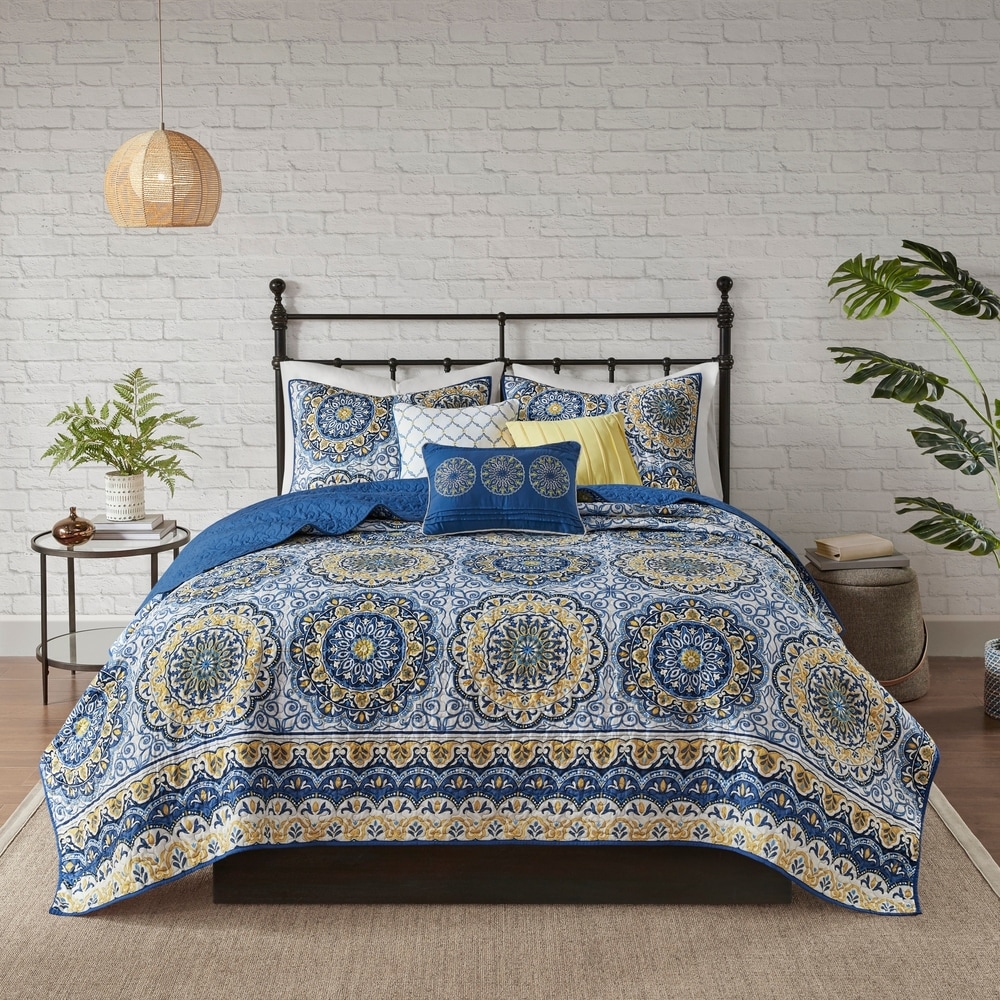 Source overstock.com
To achieve a more relaxed and laid-back feel, you should opt for cooler colors when buying boho bedding. You can also mix the different elements when styling your bedroom. When it comes to pairing, a great option is a greenery. There are so many other plants you can use inside your bedroom.
It doesn't only improve the look of your home but also the quality of your sleep. Many plants have some significant health benefits, so it's always a good idea to go for plant decor. You can choose any artwork you like as far as wall decor goes. It makes no difference what you choose for wall decor.
Go for a simple look
Via oulavix.com
If you're a fan of minimalism and boho styling simultaneously, you should try to implement simplicity inside a boho home. You can do it by using some simple boho decor items.
When it comes to bedding, you should go for neutral-colored boho bedding. It would be best to go for some simple decor items as far as pairing goes. Try to add flowers and some simple vases or candles. Candles are especially great if you want to add a bit of scent to your home. 
Go for a modern look
Via pier1.com
One of the critical benefits of boho styling is its versatility. You can implement boho styling into almost any space and combine it with any interior design style.
When talking about boho bedding, it is best to blend it with modern decor to achieve a modern boho look. It is best to go for contemporary art such as sculptures, wall art, etc. You can even implement some maximalist pieces to achieve a unique look. 
To Conclude
In this blog post, we discussed seven different boho bedding ideas.
We hope you found them inspiring! In our journey, from black and white boho bedding and earthy tones to cool colors and a modern and straightforward look, we touched on these styles and how you can incorporate them in your boho home. We hope you have found some great media on this blog, and we are happy that you read it! 
If you liked this article, consider reading our other blog posts by clicking here!