Introduction
Many homeowners are seeking new ways to customize their properties while adding beauty and value to the interior design of their homes. One of the oldest architectural techniques invented to create the illusion of larger space is raising the ceilings. Of course, this may not always be the cheapest or most practical solution. Instead, many homeowners are choosing to transform their ceilings into coffered ceilings.
A coffered ceiling is a ceiling with a series of coffers or sunken hollow panels on the surface of the ceiling to create a cross-beamed effect. This elegant feature not only makes the illusion of height in the space but is also flexible in style, durable, and resistant to sagging.
Coffered ceilings transform your ceilings into a work of art and come in many shapes and sizes, including circular, square, rectangular, or even octagonal designs. Coffered ceilings date back to historical times; however, they are making a comeback as one of the latest trends in interior home design. Here are the top 10 coffered ceiling picks for any house.  
1. Traditional Waffle Coffered Ceilings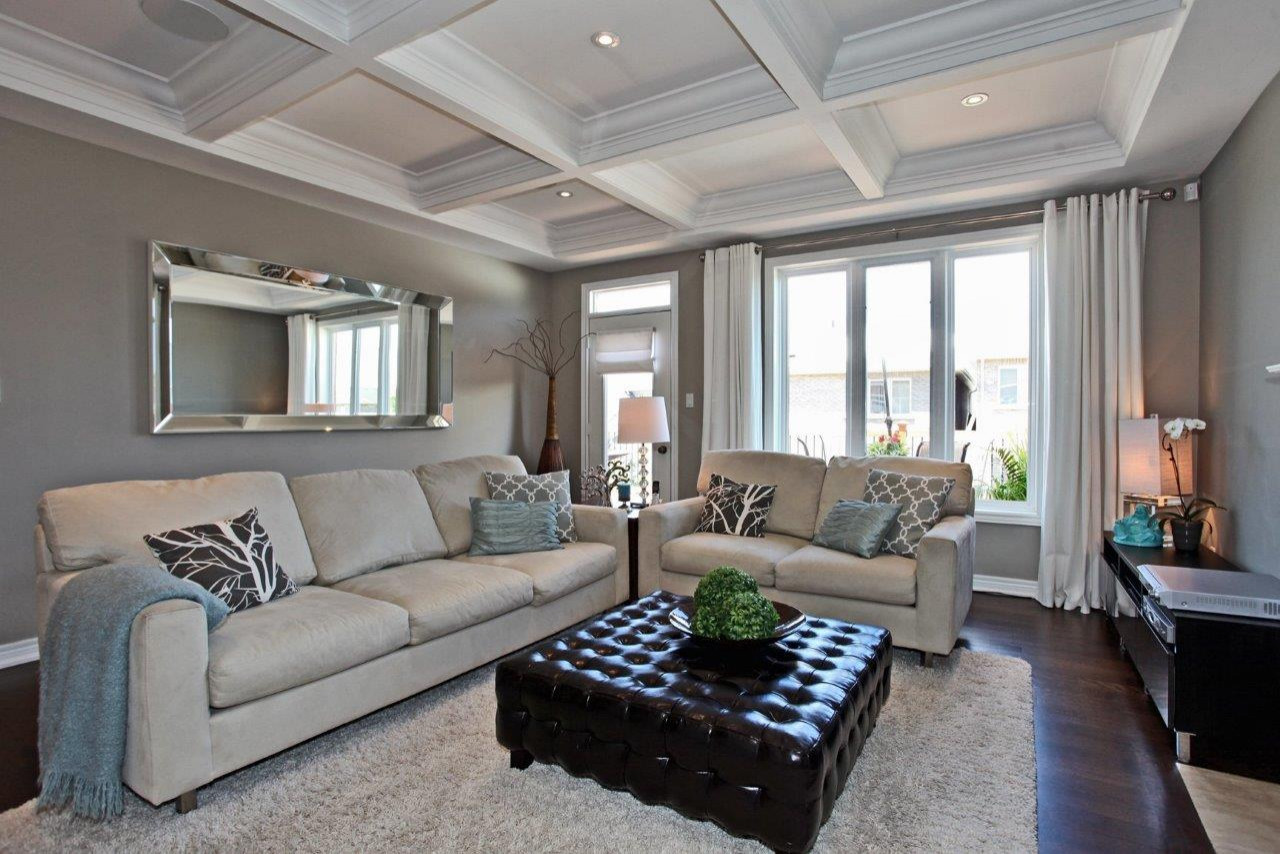 Via houzz.com
The most popular coffered ceiling design is the traditional waffle coffered ceiling. This style of ceilings consists of square panels boxed in by beams. Crown molding is usually added for additional details that elevate the status of this design. These ceilings resemble a Belgium waffle, hence the moniker.
The Waffle Ceiling panels are often painted all one color or dual-toned for added effect and work perfectly in every house, including the kitchen, living room, master bedroom, and master bathroom. 
2.  Diagonal Ceilings 
Via Wallmark.ca
The diagonal coffered ceiling resembles the waffle ceiling; however, the beams are placed at an angle. This creates a more diamond-shaped ceiling. This added twist is enough for many to revamp their traditional ceilings into a unique design.  
3.  Circular Ceilings 
By Kristin Petro Interiors Inc
Circular Coffered Ceilings are composed of one or two large circular sunken panels inlaid over a typical waffle-style ceiling pattern. The circular coffers are finished with additional layers of molding to add an extra layer of fanciness.
These circular coffers are created to match the exterior waffle-style coffered ceiling pattern. There is usually an eye-catching chandelier at the center of the recessed circular panel, with additional lighting spread through the entire ceiling. 
4.  Transitional Ceilings 
Transitional coffered ceilings are a unique blend between a tray ceiling and a coffered ceiling. The outer layer of the ceiling is one flat surface. The inner layer of the ceiling is uniquely designed with a coffered pattern.
This pattern can vary by design but usually consists of a more intricate, shallow design. These patterns are also illuminated by large accent chandeliers and a few built-in light fixtures. This kind of coffered design is perfect for dining rooms, where elegance is most desired. 
5.  Reclaimed Wood Ceilings 
Via gambrick.com
Reclaimed wood coffers are perfect for the rustic aesthetic. The natural, raw wood is uniquely beautiful in imperfection and perfectly complements a plain white ceiling. No two beams are the same, and the asymmetry adds character to any room these beams are placed in. No additional molding is needed to round out this look. The crossbeam layout is enough to transform any space into an eye-catching piece of art. 
6. Mediterranean-inspired Ceilings 
Via Hilton & Hyland
While coffers and coffered ceilings can be painted to match any color and desired aesthetic, dark wood ceilings are a unique signature of the Mediterranean-inspired Coffered Ceilings. These ceilings are created with a simple yet elegant square grid shape. Like the rustic reclaimed wood ceilings, no other molding is needed. However, the crossbeams do not have to be nearly as large as the crossbeams typically installed composed of reclaimed wood. 
7.  Industrial Coffered Ceilings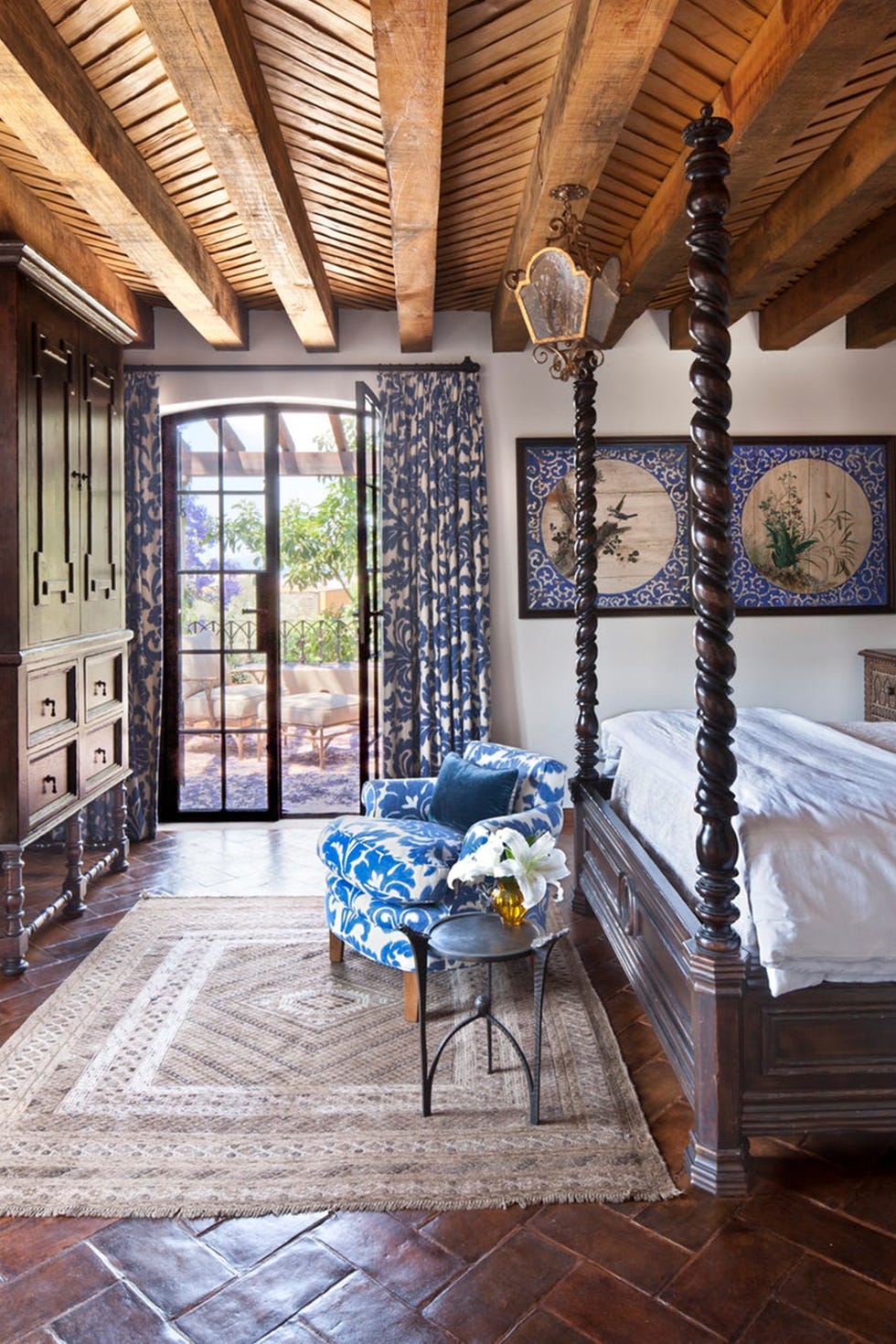 Via isherweisman.com
This ceiling is created by lining the ceiling with reclaimed wood boards and adding a thin layer of crossbeams over it. The coffer layer is painted black, and the grid-line pattern is created smoothly over the reclaimed wood. This makes the coffered design look like metal, holding up the ceiling. Pair this industrial ceiling with a unique, metal-inspired dining room table and an abstract metal chandelier for a modern entertainment space. 
8.  Wallpapered Coffered Ceilings
Wallpaper is a popular home renovation tool to transform a space into an instant piece of art. Simply stick the wallpaper to the sunken part of the coffered ceiling. The plain white, or neutral-colored, beams contrast the patterned wallpaper, creating a highly desired ceiling. Mix or match the wallpaper to the interior décor and furniture for best results. It should be noted that the wallpaper can be placed into any size or shaped ceiling.  
9.  Ornate Coffered Ceilings 
Coffered Ceiling at Versaille in France. Todd Gipstein/Corbis via Getty Images. Photo taken from thoughtco.com
The ornate coffered ceilings are the fancy, intricately carved wooden ceilings prominently displayed in castles, hotels, and cathedrals. While these works of art may not be the easiest to acquire or the cheapest, they are a breathtakingly beautiful sight to behold. Many of these ornate wooded ceilings are gilded or painted to enhance their magnificence. If they are unattainable, there are always imitation panels available. 
10.  Trendy Coffered Ceilings 
Photo by Daniel Christopher
The trendy coffered ceiling styles and trends may change over the years, but they remain unique. These coffers do not always follow a simple pattern like the other coffers on this list. They are best suited for creative designers who wish to incorporate unique elements into creating these designs. Some of the most notable and recent trendy designs include simple beams across the space, layered 'frame-like' designs, and other circular-inspired vintage patterns. The designs are endless. 
Final Thoughts 
There are hundreds of designs and custom options to incorporate when designing your coffered ceiling. These ceilings have such strong characteristics and add value to each home. Remember to keep the rest of the room's décor and colors muted to ensure the coffered ceiling receives all the attention it deserves. 
If you enjoyed reading our latest blog post, consider reading our other blog posts by clicking here