Hallways are essential and usually the first part of your home that the guests see when they arrive. However, hallways can be a bit uncanny if not decorated correctly. But luckily, there is a way to create a pleasing atmosphere with the use of hallway lighting. In today's blog post, we will talk about how to bring lighting and life into your hallway and home correctly. 
Why Is Hallway Lighting Important
If you wish to leave your guests or yourself impressed, you should be satisfied with the complete look of your home. Hallways, just like humans, come in all shapes and sizes. So finding the right way to illuminate can be a little bit tricky. Whether you are satisfied with your hallway lighting or not, we will give you some great tips and tricks to make your hallway pop using just light.
What Type Of Hallway Lighting Is The Best For You
When we talk about choosing what type of hallway lighting is going to be the best one for you, it all depends on the architectural structure of your hallway. For instance, if your hallway is a bit narrow and small, you should focus on putting lights near your walls. That way, you will create an impression of a wider hallway, and it won't look claustrophobic. However, if you are fortunate enough to have a wider hallway, a cherry on top would be a chandelier that would make a statement. There are many other ways that hallway lighting can help you enhance your hallway. Keep reading our blog to find the way that suits you the finest. 
Ambient Hallway Lighting Ideas
When it comes to ambient hallway lighting, it is all about looking natural and making it easier for our eyes to look at it. If created precisely, the ambient hallway lighting will make you feel relaxed and just at home! With the use of chandeliers, pendants, or ceiling lights, you will be able to create that homey atmosphere with the help of ambient lighting. 
Chandelier Hallway Lighting 
Via YLighting
Chandeliers can be very diverse, from elegant to modern; or minimalistic to maximalist. But no matter the design, they all have one thing in common: the potential to create a warm hallway lighting atmosphere. Chandeliers work the best with higher ceilings. Meaning that if you have a more extensive hallway, chandeliers might be just for you! 
Pendant Hallway Lighting
Outdoor Carson Stem Hung Pendant Light By Hinkley Lighting
Unlike chandeliers, pendants would look fantastic if used in a series of two or more. For accomplishing the ambient hallway lighting, you should use more neutral and light-colored pendants. However, if you do not wish to use a series of pendants, you could always use a single one with a mix of wall lights.
Ceiling Hallway Lighting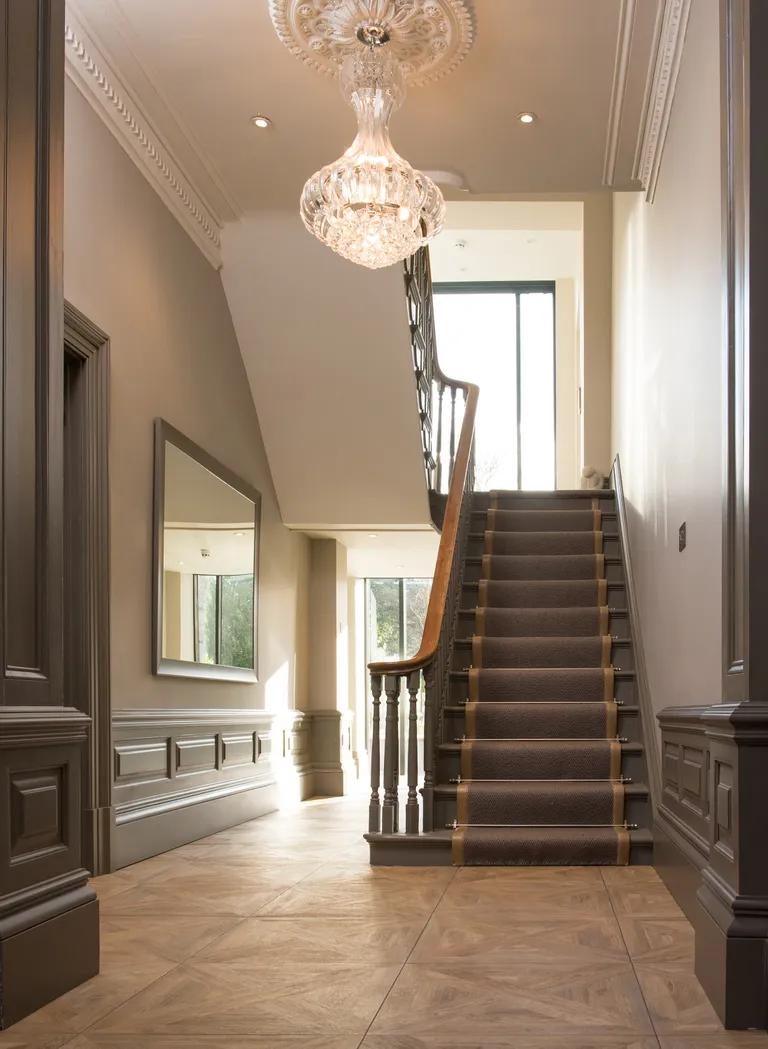 By  Lapicida
If you are looking for a way to illuminate your hallway easily, a ceiling light might be just for you. With the use of flush ceiling lighting, you can get the effect of ambient lighting without taking off the focus of everything else in the hallway.
Accent Hallway Lighting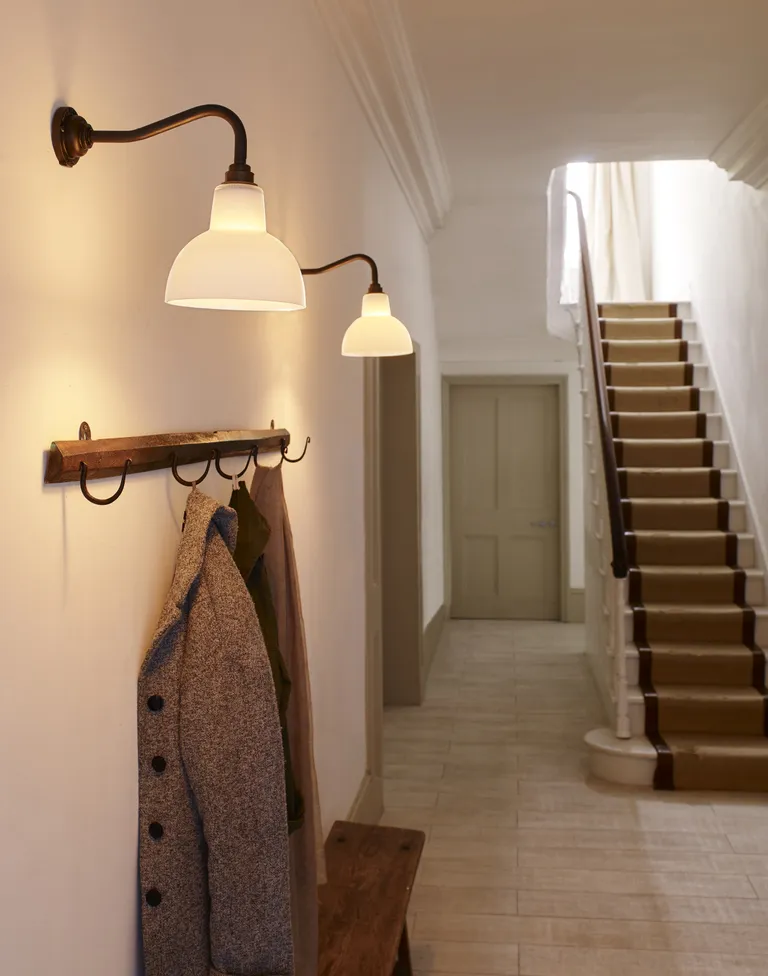 By Original BTC
Accent hallway lighting is perfect if you wish to make a statement and create a more sophisticated feeling. However, it is used primarily as a decoration. This type of lighting is prevalent during the holidays since it draws attention to other decorations. 
Hallway Wall Lights
'Cairo' Mullan Lighting contemporary wall light in a private residence, York by Design Emporium LTD.
A great way to add light to your hallway is with wall lights. They come in many different sizes, allowing you to highlight smaller or more significant decoration pieces. Wall lights are also handy if you do not have much space in your hallway. 
Track Hallway Lighting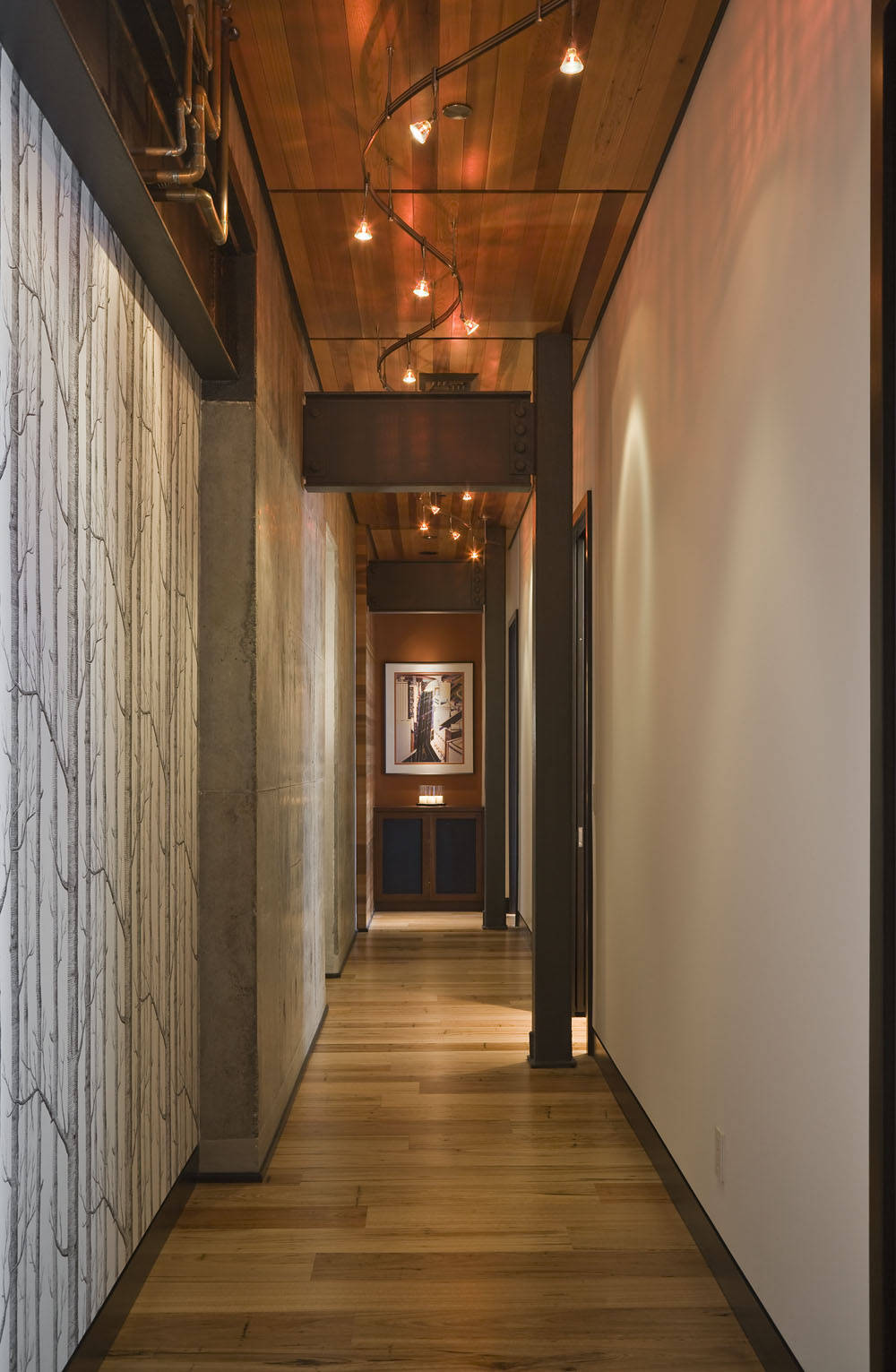 Giulietti Schouten Weber Architects
This type of hallway lighting can be very flexible since track lights can move in different directions. The best way to use track lights is when you want to draw attention to an artwork in your hallway. Imagine how memorable the artwork or painting you wanted to show off using these lights would be!
Hallway table lamps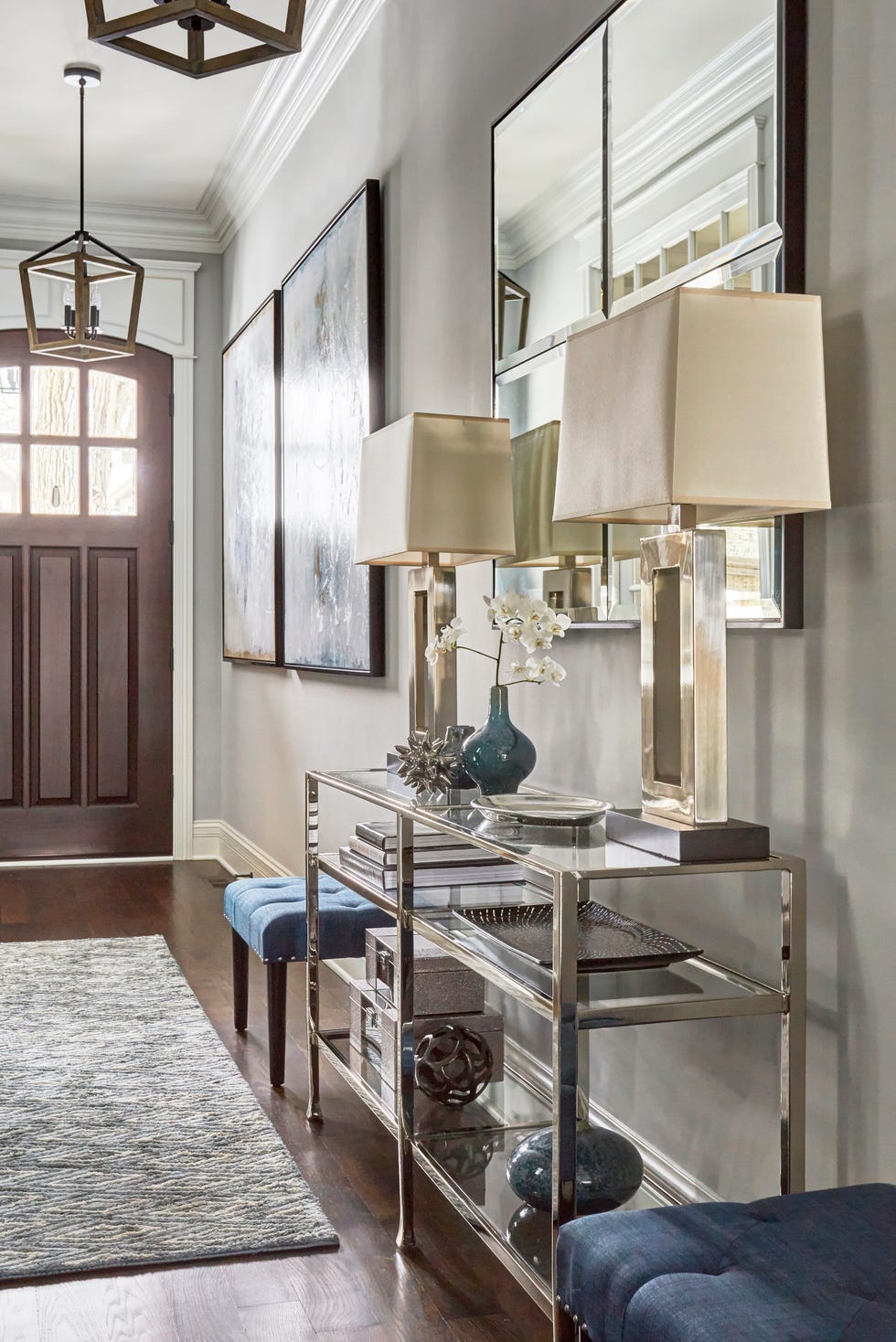 If you have small table space, you should consider adding a lamp. You can experiment with this one and maybe get a more stylish table lamp that will be a statement piece by itself. Or you could go with a more minimalistic approach and get a neutral table lamp that will go well with the atmosphere you wish to create. 
Put The Focus On The Ceiling
If the space you live in has a hallway with an exciting ceiling, why not put the focus of hallway lighting on that? Lighting the architectural features in your hallway will create a very refined atmosphere, and it will make your guests impressed! Nevertheless, this does not have to be the only source of light in your hallway.
You can always try layered lighting. Layered lighting is not only functional, but it creates a more dynamic atmosphere, thus making it more exciting to our brains. Imagine pairing up an exciting ceiling with artwork and illuminating all that together in slightly different ways! We believe that would look outstanding and would like to hear your thoughts about it in the comments. 
In Conclusion
Along with the lighting, you can bring life into your hallway with some simple decor pieces. It can be a plant, painting, sculpture, or some other type of artwork. Even just an engaging wallpaper can bring more life to your hallway. 
To sum everything up, yes, hallway lighting plays a huge role in designing your hallway. It can be a bit tricky when choosing which option is suitable for your hallway, but we hope that this blog has helped you with that! And like we said before, a well-illuminated hallway sets the tone of the tone for the rest of your house.
In the end, there is no correct or incorrect way on how to bring light in your hallway. You can experiment as much as you want and go with the option you like the most. We hope you enjoyed today's topic and hope to see your thoughts on hallway lighting in the comment section. If you liked this article, consider checking out our other blog posts by clicking here.