Are you looking for the perfect twin for your bedroom? If yes, then this article is just for you, and it will help you choose your perfect new twin bed that will fulfill that vacancy in your bedroom, not only for sleeping obviously but the design-wise as well, which is very important too! 
If you don't know which one to get, don't worry, This article will help you pick the right one, whether you have a small or large bedroom, the one with a low ceiling or the one with the high one, and many others things. 
Picking the right twin bed is vital in terms of design. Like many other design elements, the bed makes the composition right and helps fulfill the whole space, making it look like an entirety if chosen correctly. For example, putting the Alaskan king bed in a small room will not be suitable for utilizing the space, and setting the tiny bed in a large room will look empty. Of course, this is not a story about any other bed than the twin bed, so let's pick the right ones! 
Vintage Looking Twin Bed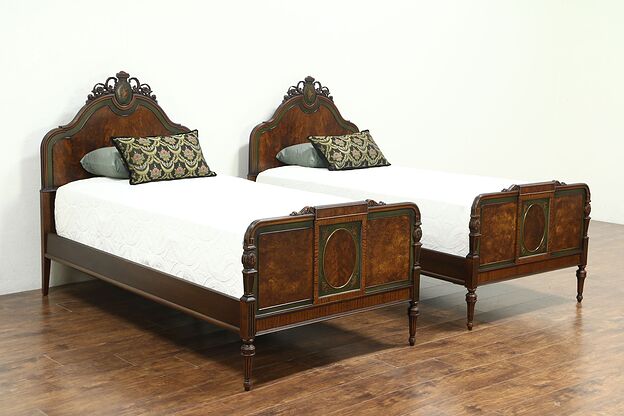 Via harpgallery.com
It is always a great start to include something vintage, and it is not so different in picking a bed. Vintage items could fit into any interior design style, making those great things to incorporate into your room. Of course, there will always be exceptions where you wouldn't be able to fit the classically styled bed in some interior design, and it would not look so good. However, it would work just right in most cases, and it will look great.
The only thing that needs to be taken care of are the colors, and those are critical things to have in mind. Since not every color blends a great way with another one, you could look at the color wheel and see which color goes well with the another. Many beds, including the twin beds in vintage style, are made in many colors, so picking one wouldn't be so hard. 
The things that make the vintage beds stand out are the styles of upholstery and fabric patterns that make those beds some timeless pieces of furniture. As mentioned above, those come in various colors and patterns, making them easy to pick for any type of bedroom. 
And when it comes to the vintage twin bed, some of the best options to choose from in terms of the bedding is the bohemian bedding, which we wrote the blog post about, and you can find it by clicking here! 
Modern Twin Bed
Via montedesign.com
In terms of the modern twin bed, there are plenty of options to choose from. The most famous contemporary twin bed has sharp edges and is designed in one of two colors. The minimal one is designed to fit the Japandi interior design style, which is often a great fit if you live in a contemporary home. Those are relatively easy to find and make a great interior design piece. Since those are designed with minimalism, this twin bed type will contribute to the clutter-free feeling a bedroom should have.
The best option for bedding is the one that comes only in one color, without stitches and decorations, better explained as the minimal one!
Classic Twin Bed  
Via designtrends.com
The classically styled twin bed frame is often a great option if you live in a place designed with a little more dark colors, wooden textures, or classic-looking wall moldings and wooden floor in herringbone or chevron pattern. As the name says, a classic twin bed will fit the classic interior design the best; the new classic one with a wooden frame in beige or white matte color would be the best option. 
Think About Patterns
Design by by Tom Scheerer, photo by Francesco Langnese
There are plenty of twin bed frames in wooden textures, just like many other ones. You should pick the one that fits your interior design style or make some contrast while considering that it looks good. Those come in many different patterns, from brushed metal through ones that look like plastic to the twin bed frames designed in natural textures.
Whether you picked the one with a metallic finish or the one on a wooden surface, you should consider matching the bedding. Unlike making contrast in furniture and bedroom styles, making sure the bedding matches the bed frame is crucial since it could look the best.
Metal Bed Frame
Those are relatively cheap and pretty easy to find. You can even get yourself a used twin bed frame and refurbish it by painting it in a different color and making some textures. Even though some of those are not so sturdy and won't last long, many of those are made of thick metal parts, making those long-lasting ones.
Bedding in a grey color will be the best fit if you go with the metallic finish, while the ones painted in different colors will make some room for experimenting with different combinations of colors. Many of those will usually have some decorative elements made of the metal at the headboard, making metal twin bed frames an excellent fit for the rustic or classically styled interior designs. 
Balboa Twin Bed Frame
By Gary Malin
Balboa bed frame makes an excellent choice for many different interior design styles; combining the beddings and fitting the bed frame in any bedroom is relatively easy. One of those timeless classics, the balboa furniture is always a great choice. They are not only beautiful and can fit into many different styles, but many of those are handcrafted and can be painted in any color. Of course, many people would not prefer to paint the balboa furniture and keep the original look, but those are some of many things that can be done to improve the overall design. 
Simple Bed Frame
Via westelm.com
Those come without the headboard, and, as the name says, those are just the simple bed frames that can be fit into many different interior design styles. Now, it is all about the bedding, but since the simple bed frames are made without the headboard, those can be modified in many different ways, such as fitting the headboard to the wall itself. The combinations can be endless, making the simple bed frame one of the great picks. When it comes to the bedding, it can really be any choice; of course, paying attention to the interior design is essential, but the simple design makes the choice list even longer. 
Thank you for reading our article about twin beds! We hope you enjoyed the blog and learned something new. When it comes to bed frames, it is vital to consider that fitting most of those to any interior design style is possible. You just have to make sure it looks great at the end, and the most important thing is, what looks good to you is a great interior design! 
If you liked this article, consider reading our other articles here!