Introduction
Kitchen cabinets are the first thing noticed when people walk into your kitchen. The color and style of your kitchen cabinets set the tone of your whole design and ambiance. If you walk into your kitchen and feel underwhelmed, it is probably time for a kitchen make-over. The best place to start is to consider new kitchen cabinets. By replacing just the cabinets without altering the rest of the kitchen, your kitchen will feel completely different and offer a whole new aesthetic. Here are the ten best types of kitchen cabinets for any home.
1. Shaker Kitchen Cabinets 
Photo: Green Couch Interiors
This kitchen cabinet is considered one of the most popular types. Shaker kitchen cabinets consist of a recessed flat panel cabinet framed by a wider wood border. It is well-loved due to the simple yet classic look, which naturally matches many different kitchen designs. This cabinet is generally constructed with high-quality American wood, such as cherry wood, maple wood, and hickory wood. These kitchen cabinets are then painted with one color; however, they also look dual-toned.
2. Traditional Kitchen Cabinet
Via kraftmaid.com
Like the shaker cabinets, this cabinet consists of a border around a central panel. However, the mainboard is raised above the outer frame in this type of cabinet. These cabinets are usually carved from one piece of wood with a rectangular groove to define the border. Due to the craftsmanship involved in creating this cabinet, it is one of the more expensive options. It is ideal for the more classic and traditional kitchen designs.
3. Raised Panel Kitchen Cabinets
Designer: Jennifer Duncan CKD, Dealer: Custom Kitchens INC, Photographer: John Magor
While closely resembling the traditional kitchen cabinet, raised panel kitchen cabinets are slightly different. Like the standard kitchen cabinet, the raised panel kitchen cabinet consists of a central panel raised above the outer border, carved from one piece of wood. Unlike the simplicity of design in the traditional kitchen cabinet, the raised panel kitchen cabinet offers more variety in detail. Depending on the desired effect, it can display either a simple or more intricate design. The raised panel kitchen cabinet is usually painted with one color of paint.
4. Flat Panel Kitchen Cabinets
Via cabinetcity.net
Flat-panel kitchen cabinets are cabinets constructed with a flat, detail-less wood panel. Often called "slab" cabinets, their simple design fits any kitchen style. If this cabinet is finished with wooden tones and elements, it takes on a classic design. When painted, this cabinet is transformed into a modern design aesthetic. One advantage of this type of cabinet is that it can be constructed with various materials, including wood, plywood, medium-density fiberglass (MDF), and metal.
5. Inset Kitchen Cabinets 
Inset, the cabinets are designed so that the door sits inside the cabinet's frame, instead of on top of it, like the other cabinet designs. These cabinets are measured and crafted with precision to ensure accuracy and longevity. While it is one of the most expensive types of cabinets, the fine details expertly carved into the cabinets are worth the splurge. This type of kitchen cabinet is ideal for elegant aesthetics.
6. Louvered Kitchen Cabinets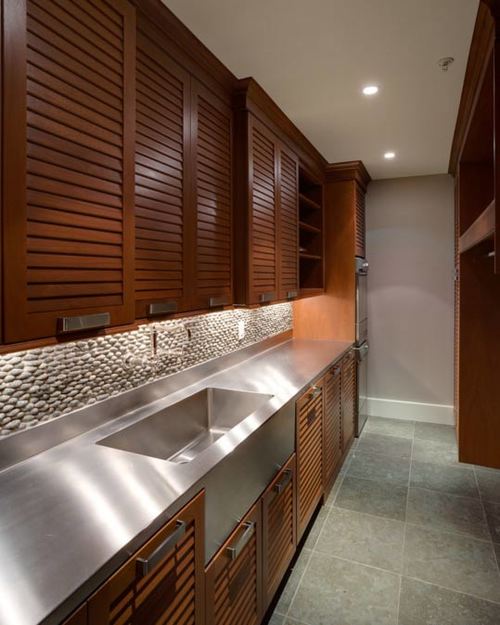 Photo by Georgetown Development
These cabinets are made with horizontal wooden slats set at an angle to allow some space between each slat. These cabinets are great for ventilation and are often used to design other wooden elements in the home, such as window shutters and laundry room doors. They offer a unique texture look to your kitchen cabinets. One thing to consider when choosing this type of kitchen cabinet, and other textured kinds of cabinets, is that it may require more dusting and creative cleaning due to the unconnected wooden panels. This type of kitchen cabinet is ideal for the county or beach vibe.
7. Beaded Kitchen Cabinets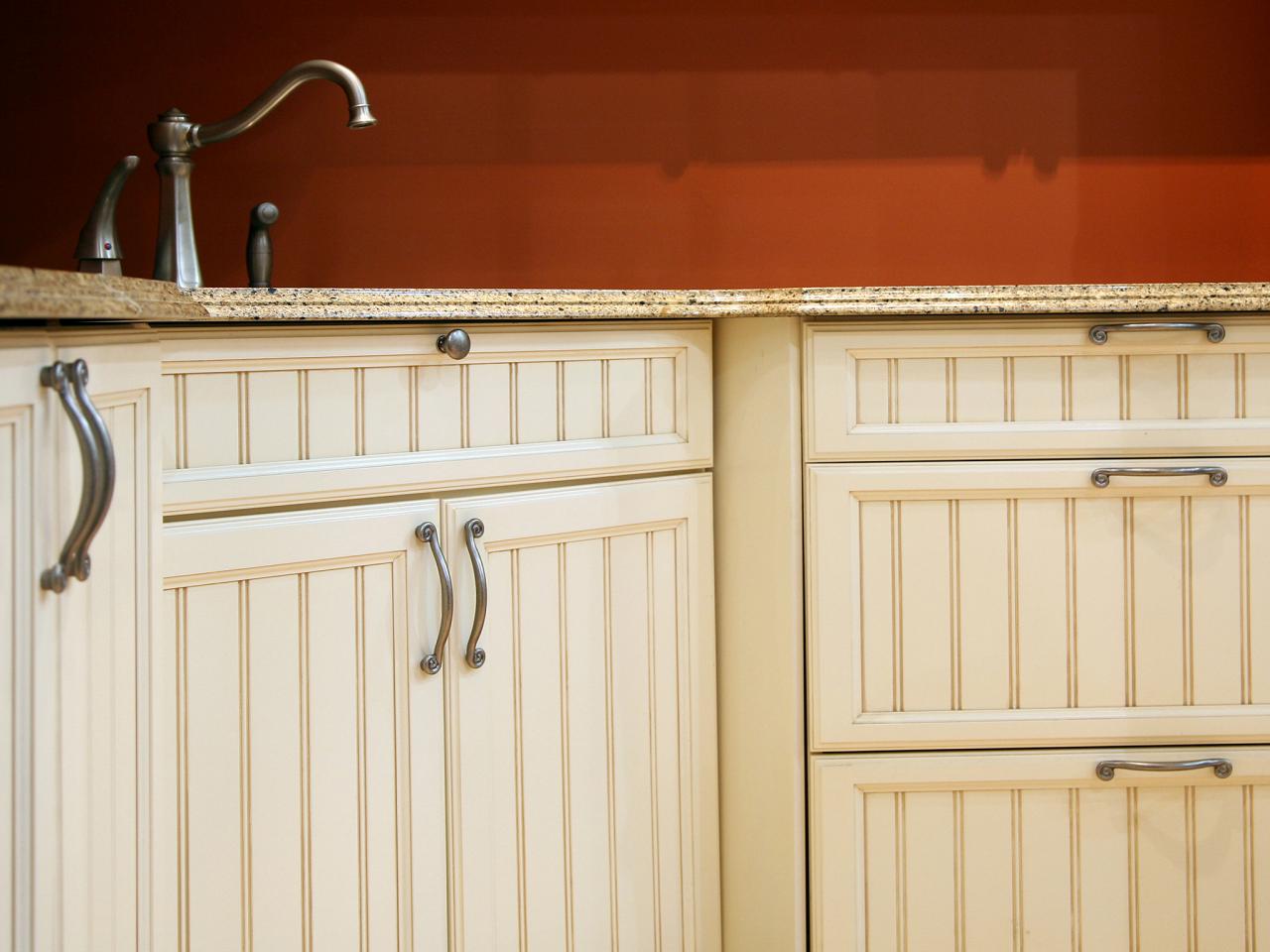 Jupiterimages, via HGTV
Another textured kitchen cabinet is the beaded kitchen cabinet. This cabinet is constructed with several vertical planks with prominent indentations between each board. While there are no spaces between the boards as with the louvered kitchen cabinets, this offers a similar aesthetic and is ideal for country or classic themes.
8. Distressed Kitchen Cabinets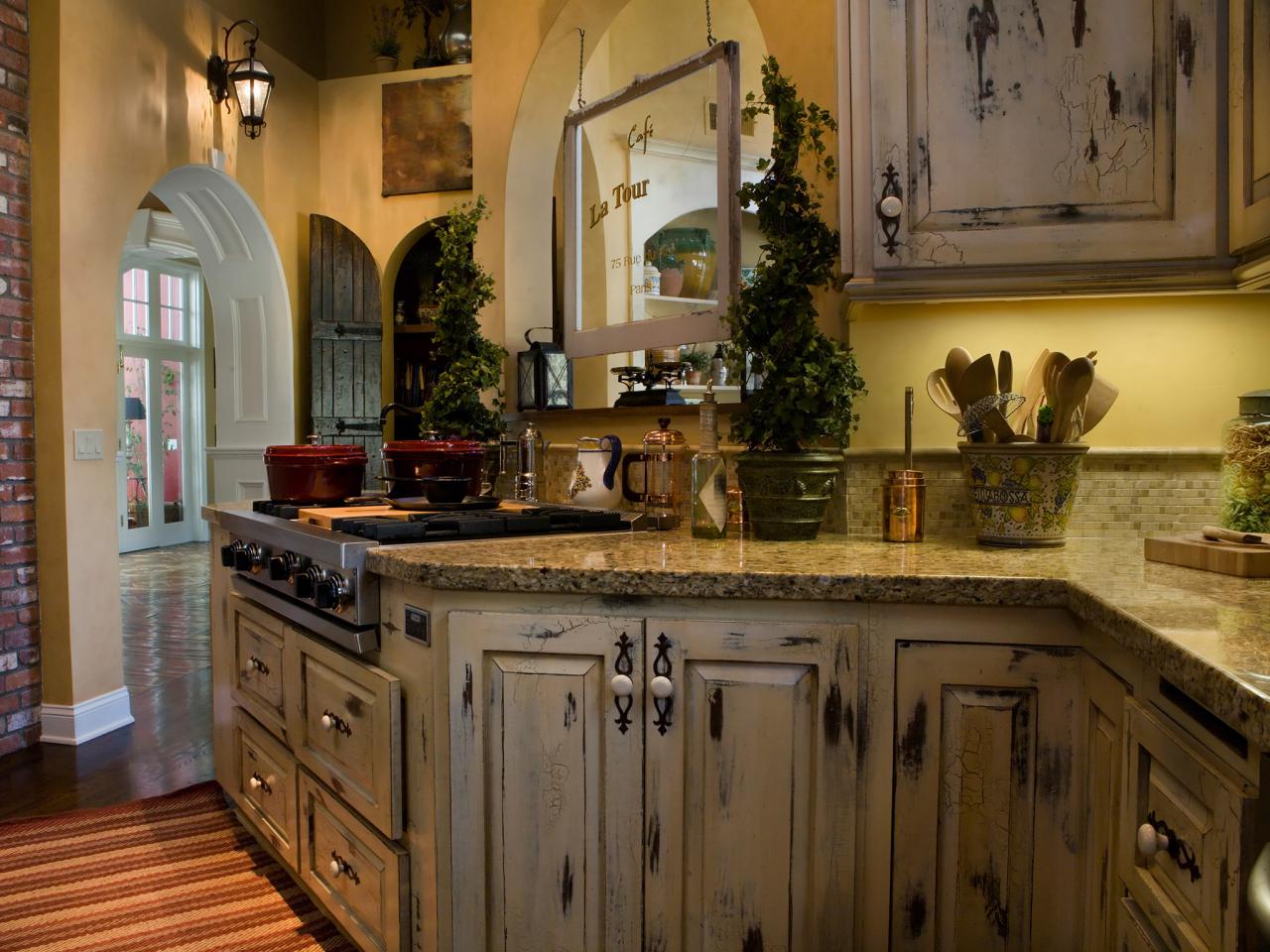 By Gordon Swanson, via HGTV
Distressed cabinets are ideal for antique or rustic aesthetic vibes. While they may appear similar to other types of kitchen cabinets in design, it requires a unique technique to distress the wood without causing damage to the integrity of the cabinet. Great care is also taken to ensure that it is properly sealed and will last for many years even though it looks antique. This cabinet is available in a variety of shades and tones.
9. Thermofoil Kitchen Cabinets
If you seek a more affordable alternative to wood-crafted cabinetry, then thermofoil kitchen cabinets are worth considering. These cabinets are molded out of medium-density fiberglass (MDF), then wrapped in a particular type of plastic coating, baked under extreme heat to be sealed. These cabinets are usually mass-produced and highly durable. They come in several designs, though the most popular request is the flat panel. Due to the construction process, this cabinet is only available in solid colors or imitation wood.
10. Arched Cathedral Kitchen Cabinets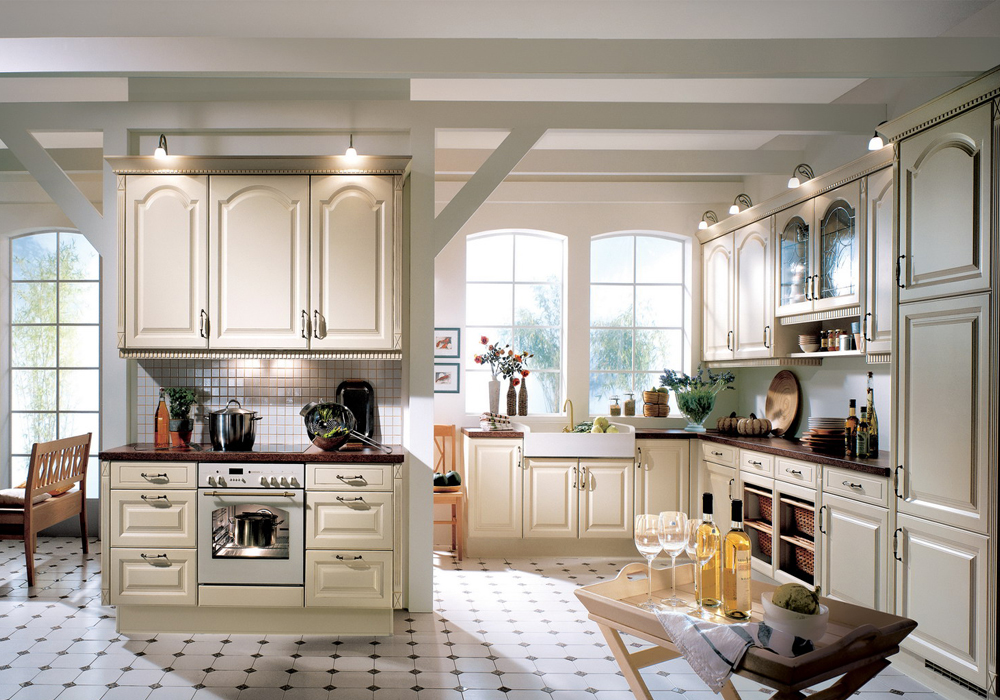 Via houlivewood.com
This iconic kitchen cabinet is known for its recessed central panel, surrounded by a border similar to the traditional kitchen cabinet. The top border is arched, creating soft flowing lines in the kitchen's aesthetic. Unlike the sharp, straight lines of the other cabinets, this shape introduces more curvature and elegance to the kitchen without straying too far from the typical design of kitchen cabinets.
Final Thoughts
With so many different types of kitchen cabinets to choose from, your kitchen is bound to be one of a kind. Keep in mind that you can always mix and match the different styles of kitchen cabinets for extra texture and emphasis. Try pairing beaded cabinets with flat-panel drawers. Add some color for flavor and customize the hardware for a showstopping look that will be the envy of all your guests. Build your dream kitchen, and your cabinets will do the rest.
If you liked this article, consider checking out our other blog posts by clicking here!