The farmhouse style is a versatile design aesthetic that can be used effectively in any space. The style can incorporate modern and traditional design elements, making it perfect for both old and new homes. It is also very flexible when it comes to applying colors, making it possible to use the same materials across your entire home or mix them up by room.
One of the most notable characteristics of farmhouse light fixtures is their versatility. With some minor adjustments, these lights can fit into almost any style. Keep reading our blog post to find more about the best farmhouse light fixtures for you.
How to Pick Farmhouse Light Fixtures
Farmhouse light fixtures give a room a warm, cozy feel. The farmhouse style is reminiscent of the rustic days of long ago when people lived off the land and made their own crafts. In addition to lighting fixtures, furniture pieces are also popular in the farmhouse style.
This type of decor goes well with natural elements like wood and stone as well as with vintage touches like lace tablecloths and old patterns on dishes. The lighting you choose for your home should work with the design scheme and flow throughout the room. Each space has its layout that is uniquely its own, which means there isn't a one-size-fits-all solution when it comes to choosing the right kind of lights for each area in your home.
Farmhouse Light Fixtures – Chandeliers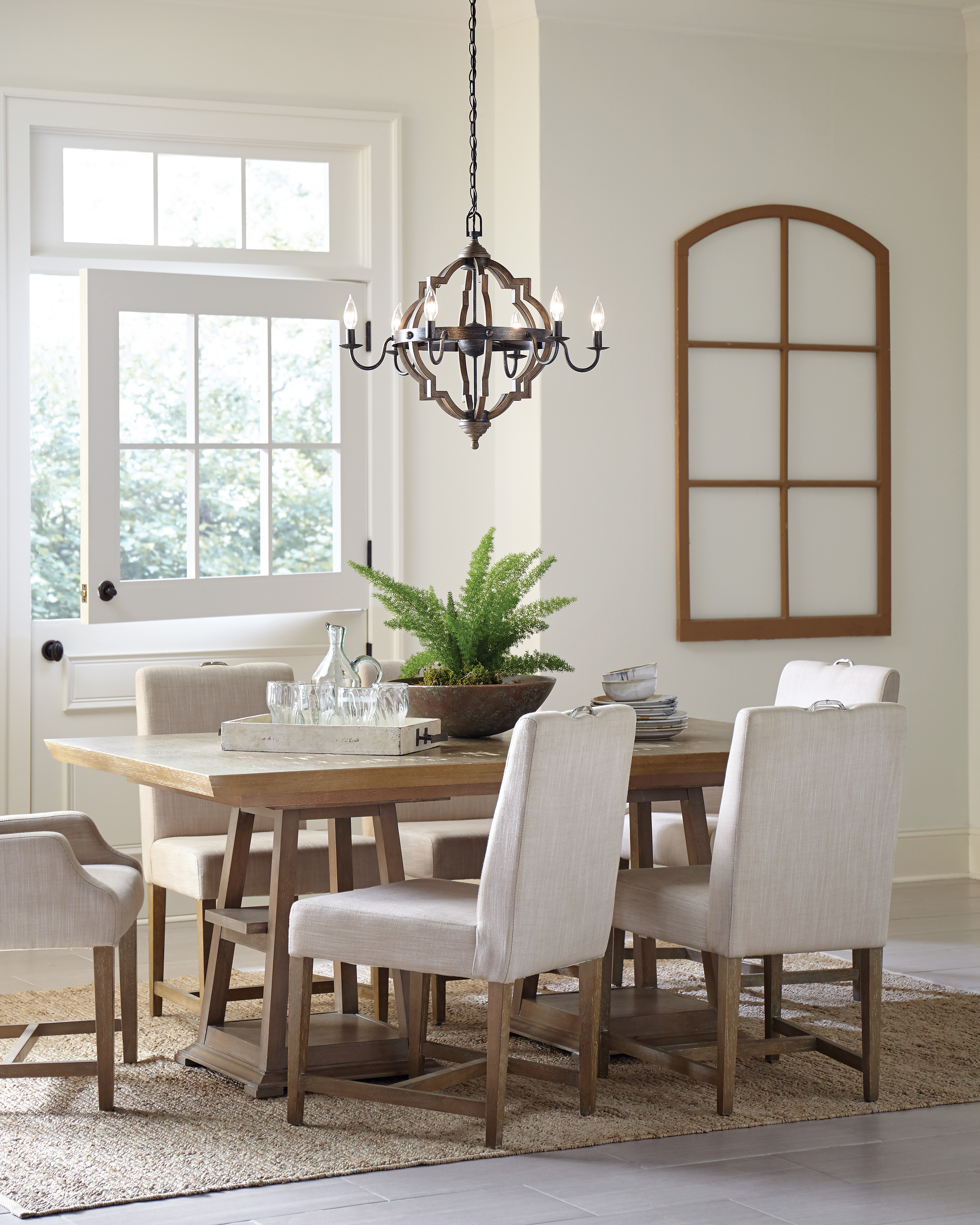 When it comes to farmhouse light fixtures, chandeliers play a significant role. A chandelier is a decorative ceiling-mounted lighting fixture that illuminates a room with focused bright light.
Handcrafted from vintage metal, this chandelier is sure to be a statement piece in your home. The long chain is hand wrapped with natural rope, and the pendant shade features a beautiful look.
As you might have guessed, chandeliers play a role as a decorative piece for your space and are very useful as a functional light. You can choose between small and large chandeliers to see which ones fit your living space best!
Farmhouse Light Fixtures – Fan Lights
By @hipandhumblestyle on Instagram
Another type of farmhouse light fixtures are fan lights. Fan lights are an excellent choice for decorative lighting. It does not require much maintenance, yet it can add a lot of beauty to your home. The best part about these fans is that they can be used in any season and with any decor style.
Most people don't know they need fan lights, but they wonder how they ever lived without them once they install them. Fan lights are typically installed above the ceiling fan in your bedroom, which makes it easy to read while you relax in bed at night. They can also make your room look more beautiful and relaxed. 
Farmhouse Light Fixtures – Pendants
Just like chandeliers, pendants are a type of farmhouse light fixtures that hang down from the ceiling. If you are looking for a way to make your home feel warm, inviting, and cozy, the addition of pendant lighting is an excellent option.
A well-chosen set of pendants will transform any room in your house into a space that feels both stylish and sophisticated. Whether it's a long hallway or even just the kitchen ceiling, these lights will be sure to add some character as well as style to your home. Pendants come in all shapes and sizes, which gives you many options to choose from. 
Farmhouse Light Fixtures – Flush Mounts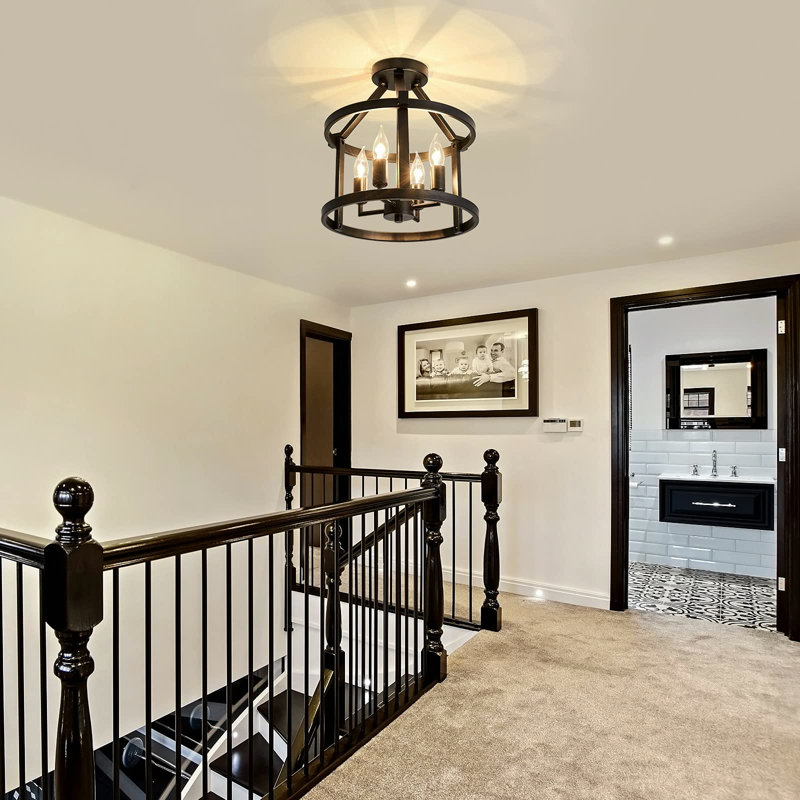 Via Wayfair
Flush mounts are farmhouse light fixtures that are fixed to the ceiling, and they are great for smaller spaces! They have many advantages over other types of lighting options. The first benefit is that they can be mounted to ceilings without cutting holes in them or doing any extra remodeling work. With no exposed wires or bulbs, they offer a clean look that will fit into almost any environment.
Farmhouse Light Fixtures – Table Lamps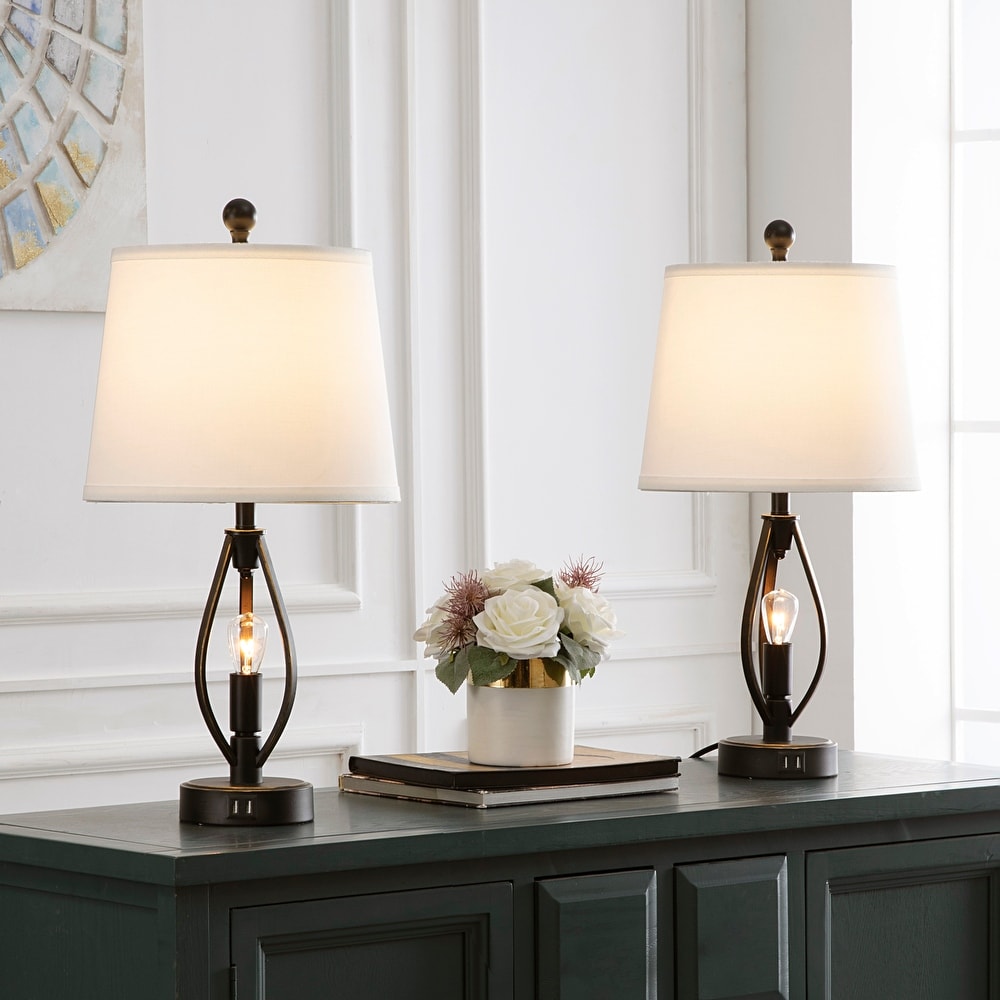 Via overstock.com
Table lamps are essential elements in creating a comfortable interior design. Table lamps create an atmosphere, set the tone and mood for your interior, help you unwind after work or turn on party mode before going out with friends. Table lamps are a great decorative addition to any home and can improve the look of an entire room.
They are available in various styles, shapes, and sizes, so you can find one that matches your needs perfectly. For a lamp to fit in farmhouse light fixtures style, you should focus on getting lamps with an industrial feel. There are two primary components of a table lamp: the base and the shade. The base usually consists of a weighted or freestanding option that holds the light upright on your nightstand. 
Farmhouse Light Fixtures – Floor Lamps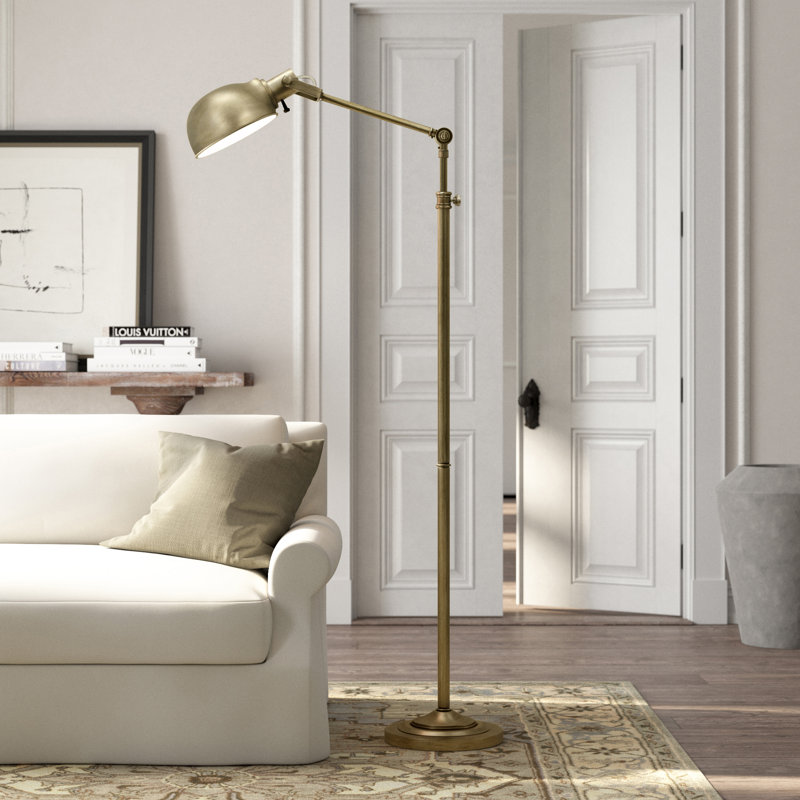 Just like table lamps, floor lamps are also convenient when it comes to farmhouse light fixtures. You can get several benefits from this lighting system due to its flexibility and utility. Floor lamps are efficient because you can move them around the house and put them wherever you want them to be. For a farmhouse feel, pick ones with a wooden or metal base.
If you're going to make your home more attractive, then you need to include these types of lamps in your room décor plan. You can purchase them at the retail store or online through a reputable seller. How about having one of these floor lamps in your bedroom? That is just an idea to consider! 
Conclusion
With so many options to choose from, finding the right farmhouse light fixtures for your room can be a challenge. We have broken down the different styles and features of farmhouse light fixtures to help you find the perfect fit for your space. Do not forget to visit our website for more information about interior design and other home improvement tips!
Thank you so much for reading today's blog post, and let us know below in the comment section what some of your favorite farmhouse light fixtures are. If you liked this article, consider checking our other blog posts by clicking here!