One of the most popular design trends has been farmhouse style. This rustic but elegant look is perfect for creating a cozy atmosphere, and it will never go out of style. Farmhouse kitchens feature many kitchen cabinets and drawers to provide plenty of storage space for all your dishes, pots, pans, and cooking utensils.
They also typically use wood as the primary material in cabinetry and countertops, so these kitchens have a natural feel that fits perfectly with the overall interior of your home. In today's blog post, we composed a list of our top picks for farmhouse kitchen decor for 2022, and we hope to leave you inspired after reading!
Farmhouse Kitchen Decor Characteristics
By Hill Farm Furniture Ltd, via Houzz.com
The farmhouse kitchen decor style is natural for many homeowners to create a welcoming and comfortable space. The style is characterized by warm, neutral colors, simple patterns, rustic materials, and thoughtful details. Though the farmhouse style has been around since the late 20th century, it has enjoyed a resurgence over the last several years.
Farmhouse kitchen decor is perfect if you wish to create a cozy and homey atmosphere where you and your family and friends can gather and spend some quality time together. Now let's take a closer look at some of the ideas we picked for you!
Time To Organize Your Kitchen
Organizing your kitchen pantry is an excellent idea for your home. Why? Because organizing the kitchen pantry will help you be more methodical in the kitchen, it will also give you better access to what's inside – making it easier to find things when you need them. In such a pantry, you can keep all kitchen items organized.
You will get space for storing your food items with ease. In addition to saving space and maintaining well-arranged things, you will also make your kitchen look put together and well decorated. A perfect farmhouse kitchen decor for this is beige wicker baskets, jars, and white farmhouse pitchers with some dried flowers inside them. You can fill up your glass jars with dried pasta, grain, corn, rice, etc., and don't be afraid to display them on your shelves for everyone to see! 
Wooden Signs For Farmhouse Kitchen Decor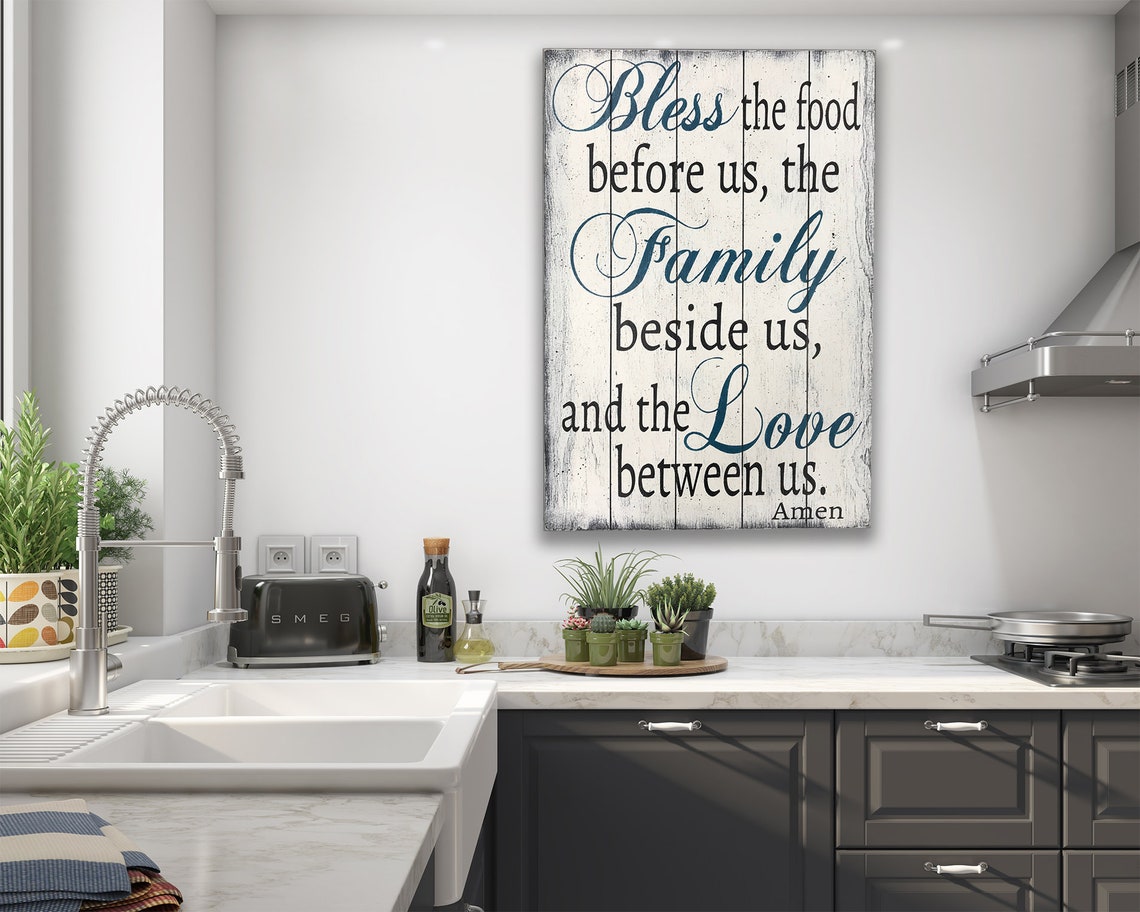 Via: etsy.com
If you have been reading our blog for a while now, you know we adore wooden farmhouse kitchen decor. It's such an easy way to add some character and rustic elegance to your home. And those hand-painted wooden word signs are so attractive! They give a personality to your kitchen and are always fun to see around.
You can choose between one-worded wooden signs or a quote written in beautiful calligraphic lettering. You can purchase these signs in most decor shops, order online, or even make one yourself! For an authentic farmhouse feel, you should go with more neutral-colored wood.  
Consider Installing Shiplap Walls For Your Farmhouse Kitchen Decor
Via: kowalske.com
Yes, you read that correctly; even walls can be a part of your farmhouse kitchen decor! One of the most recent trends in interior decorating is using wood for walls. Several different types of wood can be used, but one type has been gaining popularity over the last few years: shiplap siding. Shiplap siding looks like many planks nailed together to create an accent wall. This style has become popular because it brings a country feel to any room and goes well with rustic decor. 
Bring In Some Life In Your Farmhouse Kitchen Decor
Via: homemydesign.com
Plants can be a significant interior decorating element in the kitchen. Flowers for farmhouse kitchen decor are one of the most popular ways. All you need is to find the right kind of flowers appropriate for your kitchen and have them arranged beautifully. We recommend going for beige, baby pink, or white-colored flowers with green leaves.
Adding flowers to your kitchen can bring life, color, and happiness into your home. You can put your flowers in a pitcher or vintage jars for that country feel and display them in the center of the table for everyone to see. However, if you do not wish to have alive flowers, you can always go for dried ones or plastic. Another alternative is wheat or oak branches that also go beautifully well in vases!
Wooden Cabinets Are A Classic Farmhouse Kitchen Decor
By: Crown Point Cabinetry, Via: houzz.com
Wooden cabinets are a classic interior feature. They look great in any kitchen and can be custom-made to fit your space perfectly. While you may think this means they're out of reach for people on a budget, the truth is that there are plenty of ways to find high-quality wooden cabinets at an affordable price point.
We recommend installing iron latch hooks or some interesting metal vintage handles to make your cabinets stand out even more in your farmhouse kitchen decor. 
Runner Rugs To Keep You Cozy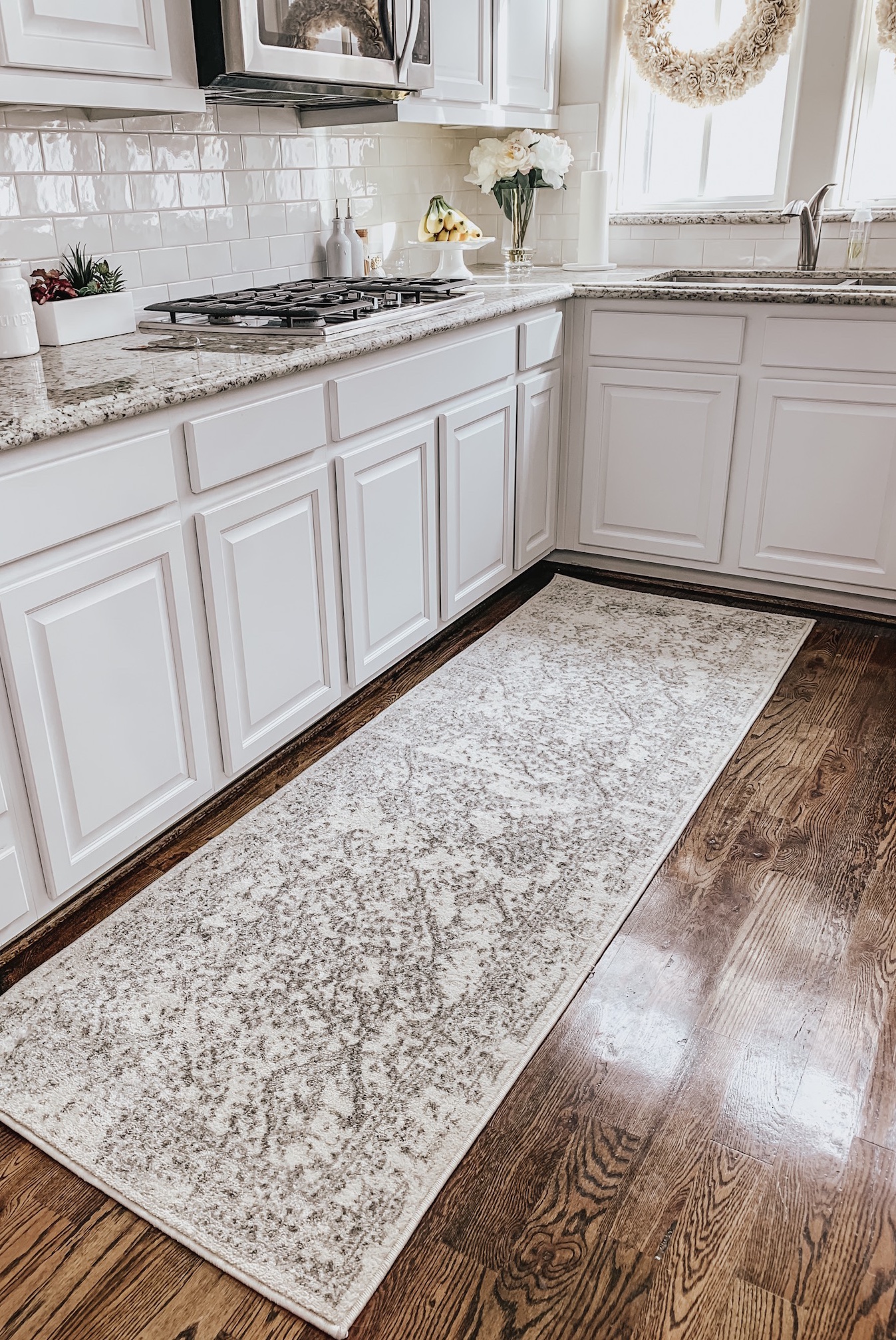 Via: champagneandchanel.com
Decorating a home adds personality, style, and color to your space. Rugs are one of the most effective ways to bring vibrancy into a room. The best way to choose a carpet for your home is by selecting the size that will work best with the space you have to work with and considering how often it will be walked on or used.
The Runner Rugs are the best option for people who want to beautify their farmhouse kitchen decor. Such rugs are more attractive in their designs and patterns and are available in different colors, sizes, and designs. 
Conclusion
Because farmhouse decor tends to be rustic and homey, it's an excellent choice for kitchens that are meant to be used as well as looked at. We've provided you with ways to incorporate country style into your kitchen in this article. With a few simple upgrades, you can quickly transform your kitchen into an inviting space for both cooking and socializing.
We hope these ideas have been helpful! If there is anything else we can do for you, please let us know by visiting our blog today. Make sure to let us know in the comments what your favorite farmhouse kitchen decor is, and thank you for reading your today's blog post! If you liked this article, consider reading our other blog posts by clicking here!