Introduction
The work landscape has changed tremendously during the recent Covid-19 pandemic. Due to worldwide quarantine restrictions and regulations, many people found themselves working from home. While some people creatively set up their workspaces in their kitchens, others could finally utilize their home offices.
In addition to the isolation from the rest of the home and household distractions, here are a few different home office ideas to boost your productivity and create a space where your creativity can flourish. Keep reading to find out exciting things about home office ideas and get inspired with some of the photos we selected for this post!
Pick a Productive Desk 
The first of the home office ideas is to evaluate your desk. Gone are the days when a desk was simply a piece of wood on four legs. While a simple desk is still available, there are many more customizable options on the market. Some desks offer storage space in the form of drawers, cubicles, or vertical shelves to minimize desktop clutter while still keeping all of your stationery and tools within reach. Some desks fold up and tuck away when not used to maximize floor space, ideal for small office spaces.
There are tiered desks that provide various set-up options, including a hide-n-slide keyboard drawer and raised computer monitor platform. Standing desks adjust to either a seated or standing position, ideal for people who cannot sit for extended periods. And there are even treadmill desks for the more active population who wish to keep moving while staying busy. Find a desk that will meet the needs of your workspace to increase your productivity.
Invest in an Ergonomic Chair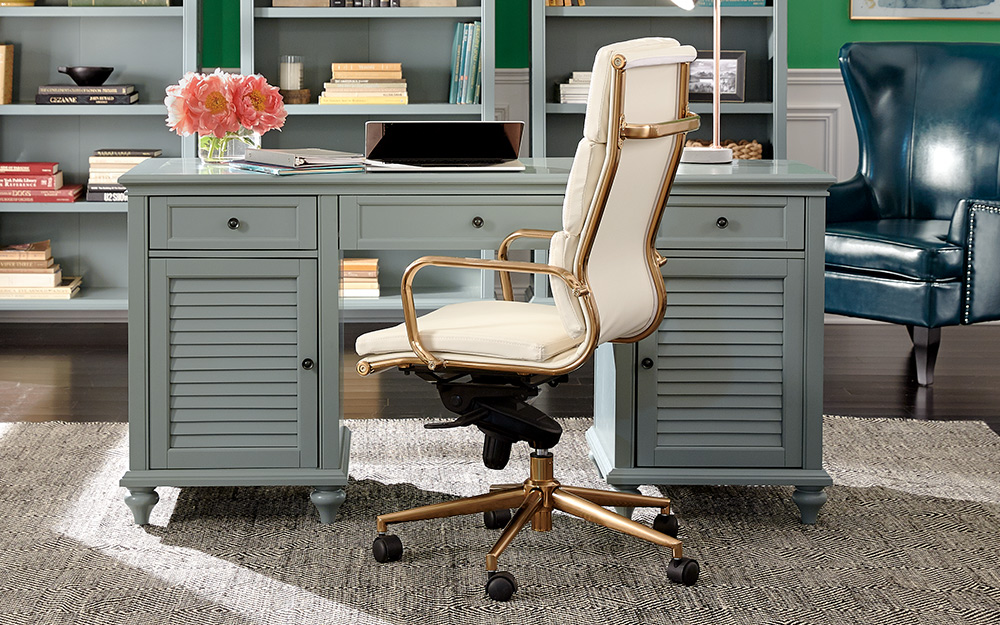 Via The Home Depot
Naturally, the next of the home office ideas is to invest in a comfortable office chair. A great office chair will recline slightly and ensure a correct posture. This will reduce pressure on your neck and spine, minimizing lower back pain and neck strain. If you cannot invest in a new office chair, add a pillow to your current chair to make it more comfortable.
There are a variety of affordable pillows available, each offering different advantages, such as a back support pillow, a coccyx seat cushion, or a lumbar support pillow. Find a pillow that meets your specific needs. With a comfortable seat, your body's physical stress will be alleviated, and you will be free to focus on your work and increase productivity.
Light Up Your Space
Via newdarlings.com
The amount of light your office space receives can directly increase your productivity. A simple yet effective home office idea is to open the curtains of your home office to allow natural light to pour into your workspace through the windows. Natural sunlight light will trigger your brain's circadian rhythm and boost your productivity during the day. Add a desk lamp or floor lamp to provide additional light sources during the evenings. Add a few string lights for extra ambiance lights. The brighter the space, the more productive you will be.
Adding Color to Your Space Is One Of The Great Home Office Ideas As Well
Via Sheer and Company
Studies have shown that specific colors can help regulate emotions and stabilize mood. The home office ideas of incorporating colors into your workspace, such as yellow, green, or blue, should boost your productivity. These colors mimic natural elements and the outdoors, but they promote a sense of calming focus. Whether you paint an accent wall or add colored stationery and organizers, a pop of color will go a long way to boost your productivity.
Organizing Your Space Is One Of The Great Home Office Ideas
Via Spacejoy
Another of the home office ideas to boost your productivity is to declutter your workspace. Clutter is one of the quickest ways to sabotage your focus. Clean and organize your space to ensure focus and productivity. There are a variety of products available to help you maintain organization. Find a system that works for your needs. This may look like a bookshelf to stash and organize books, papers, and folders, or it may be a desktop organizer to contain all your pens and sticky notes. Identify the most significant areas of clutter in your space and start there.
Another way to help organize your space is to utilize the wall space around your desk. Add a whiteboard to list all the upcoming deadlines and to-do lists. Add a corkboard to pin up any critical information you use regularly or any important notes you may need. There are several different hanging organizers also available to declutter your desktop space. Once all the distractions are removed from your desktop, you will notice a boost in your productivity. This one among the home office ideas is great because organized space is excellent not only for the mentioned above but also for feeling more organized!
Noise Control 
By @4_raumwohnung on Instagram
Another excellent home office idea is to address the noise level in your workspace. Different people function better under different noise levels. If you are distracted by other noises and require complete silence to work, invest in a good set of noise-canceling headphones.
If you need some background noise to focus, play some music without lyrics in the background. If this is too much, some apps and playlists mimic the sounds of nature or city environments like coffee shops. Take some time to discover what kind of ambient noise you need in the background to be your most productive. And remember, this may also vary day-by-day, so take the time to identify your own needs first, then pick the audio to meet those needs. Soon, you will notice a boost in productivity and self-satisfaction.
Satisfy the Senses
By @maychamber_living on Instagram
One of the often-overlooked home office ideas is to satisfy your senses. The visual and auditory senses have already been addressed. For your sense of smell, light a candle or get an air freshener that you can activate when it is time to work. The sense of smell is closely related to memory, so consistently activating the same scent will trigger your body's sense of focus.
Different scents are also linked to certain mindsets. Pine scents increase your level of alertness, lavender is known for its relaxation properties, and citrus scents are great for waking up and boosting your mood. Figure out which scent will aid your focus.
For your sense of taste, make sure to drink plenty of water throughout the day to stay hydrated. There are several additives that you can mix into your water for added flavor. A sip of cold water with a splash of lemon or mint is excellent for awakening the mind and body.
Final Thoughts
There are many excellent home office ideas to boost your productivity when working from home. With self-discovery and reorganization, you will find your motivation and productivity increase drastically. Remember, even though you are working from home, it is still your home. Your home office should provide a sense of comfort, not stress. Boost your productivity and ease your stress for the most effective home office.
If you like the blog post about the home office ideas, consider reading our other blog posts here.