Although we are sure you wish you didn't, you spend a lot of time in your laundry room. Why not make it feel cozy? When thinking of design ideas for the laundry room, there's a ton to choose from. Luckily, it's one of the easier rooms to design due to its simplicity. Here is the list of our 15 favorite laundry room decor ideas to improve your time spent in it!
Woody Laundry Room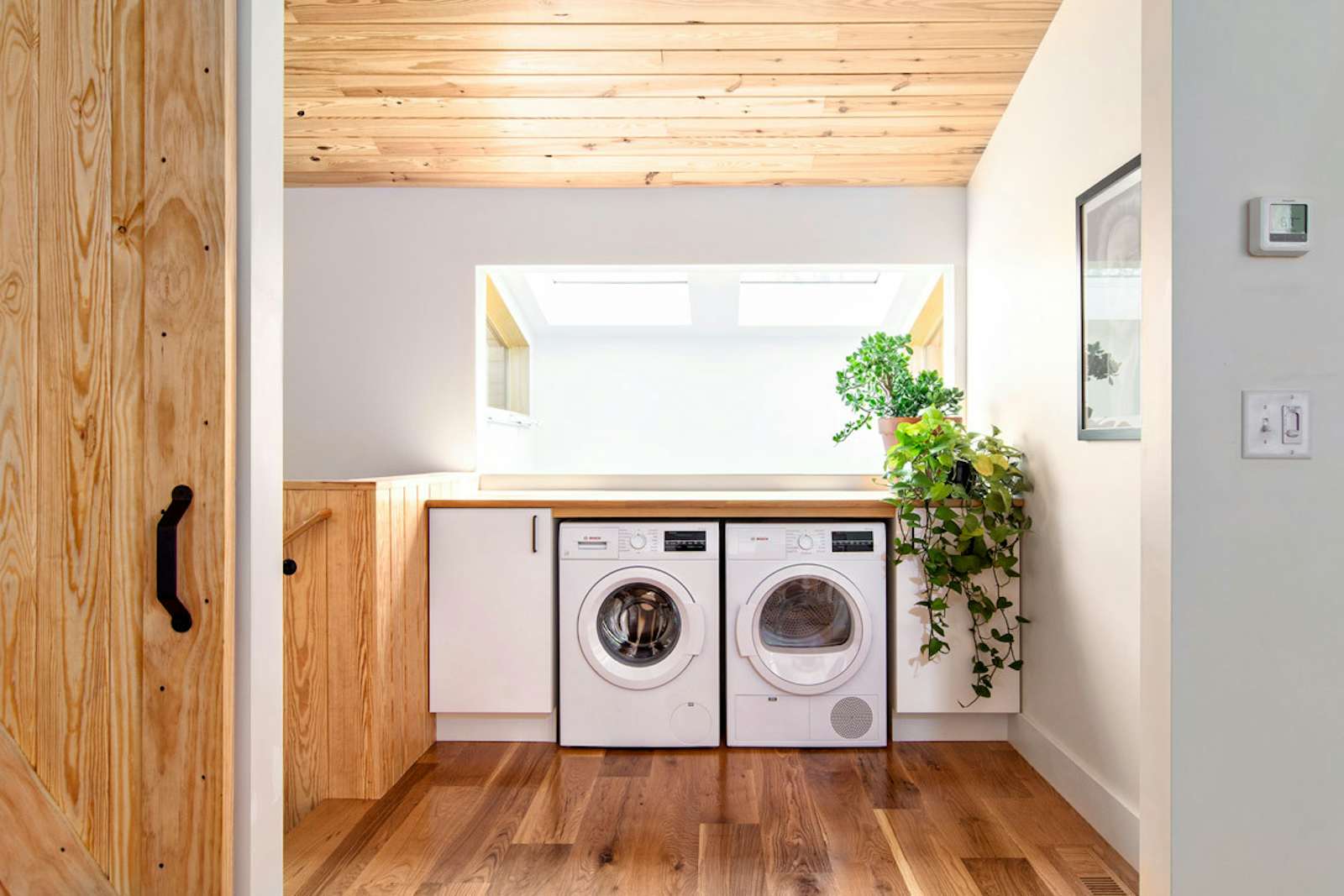 Via Dwell,  Assembly Architecture & Build, PLLC
Wood is a lovely element to incorporate in any decor. Adding wood shelving or cabinets to your laundry room could not only add extra storage, but also make it feel more homey.
Island Time
Adding a floating island in your laundry room, if the space permits, could make a big impact on efficiency. You can use it to store the things you need most so they're handy, then tuck it away when it's not in use.
Attention To Detail
Throw down an accent rug or hang pictures on the walls like you would any other room. Hang cute little storage hooks or more relaxed lighting.
Elegant Ambiance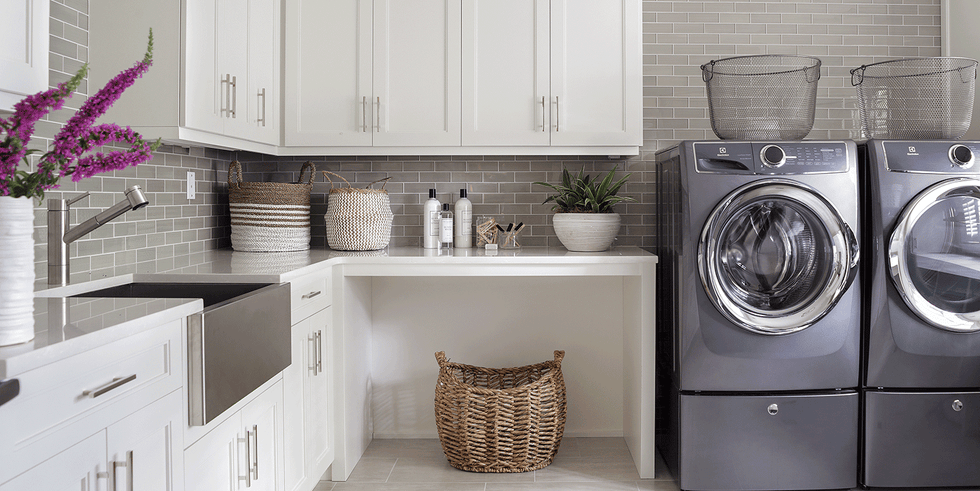 Via peterrymwid.com
Black, white and gold have always been easily incorporated and they'll often times make the room feel cleaner. A clean laundry room will make doing laundry feel like less of a chore.
Patterns As Laundry Room Decor
Design by Fresh Haven Design. Photography by Spacecrafting. Build by Michael Paul Design Build.
Aside from cool accent rugs and little decor details, adding a patterned wallpaper could add some spunky to a boring laundry room. Neutral colors often work well in smaller areas like this, but if you prefer to go bold, feel free.
Industrialized
Photographer: Dion Robeson
A popular laundry area, or mud room, theme is industrial. Freestanding appliances and dark cabinets with big white tiles fit well together. Also you could leave those metal or bronze pipes exposed.
Storage Space
Design: Emily Henderson, Photo: Sara Tramp
Cabinets are a wonderful addition to your laundry room since you can never seem to have enough storage in there. You could build cabinets around your machines, just be sure to allow for new models to be installed.
Hanging Racks
Open-air hanging racks are popular for items that can't be tossed in the dryer, and with a countertop underneath you'll have the perfect spot to fold your laundry when it's finished.
Window Seats
If your laundry room has windows you could add benches along them, or build your countertop in front of them so you can enjoy the outdoors while finishing your chores.
Flooring
Photo by The Spruce, Christopher Lee Foto
Since laundry rooms are generally small areas, replacing the flooring might actually be an affordable option. Incorporating colorful tile or a unique design could be just what your laundry room needs.
Stackable Appliances
Design by Marie Flanigan Interiors, Photo by Julie Soefer
If you have limited room to do laundry but want to add more space you could opt for a stackable washer and dryer set. They generally cost about the same, if not less, and take up half the space as a traditional set.
Big Sink
Photo by Andrew Parker, Radiant
Although having a sink in your laundry room might seem unnecessary, you don't need one until you need one. It's nice to have a place to soak dirty clothes and clean up messes without having to tie up the kitchen sink.
Backsplash
Image: The Home Depot
If you're not into painting or want to avoid having to settle on a color, a simple backsplash might be a better fit. Adding a touch of pattern can still add a ton of charisma to your laundry room.
Barn Door
A well placed barn door looks good in any home, so why not place one in front of your laundry area? It'll give it a rustic feeling and you can easily incorporate matching decor inside the room.
Ceiling Rod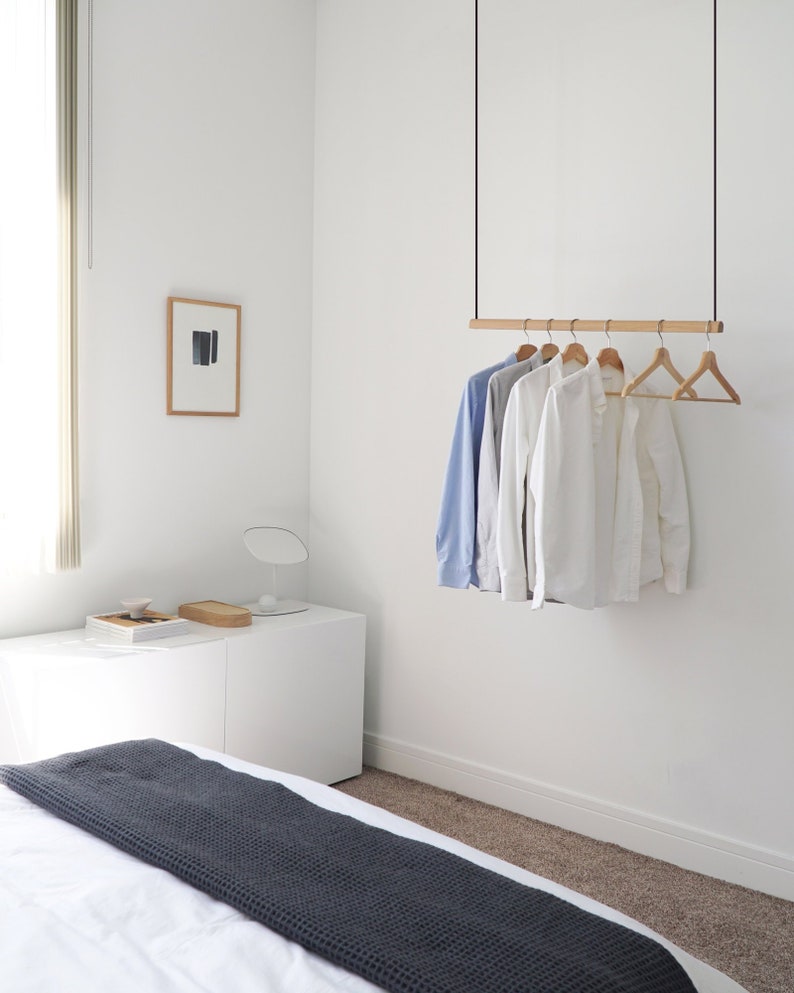 Via Etsy
Much like a drying rack, a ceiling rod can be used to hang clothes to dry, or so certain items don't get wrinkled. They're usually placed over a countertop, so again you could use this area for many things.
Thank you for reading our article about the laundry room ideas! If you enjoyed this article, you can read our other ones here!