Round coffee tables have become more and more popular, but decorating around them can sometimes feel like you're piecing together a puzzle. We're not used to decorating around soft edges like this, imagine if the walls of our houses were rounded instead of having corners to place end tables or accent chairs. Luckily, making these circular decor items a centerpiece makes them much easier to work with.
Round wooden coffee table with a rounded base
For a symmetrical coffee table that's round on top and on bottom, this simple centerpiece will add a rustic feel to your decor.
Round wooden coffee table with metal braced cross legs
Via neohoreca.com
If you think a round top and a round bas is too much, you can opt for one of these circular tables that include criss-cross legs underneath.
Shining top, mod looking rounded coffee table
Via ghashop.com
If you're looking for a more modern look, a cross-legged coffee table with a glossy round top can add some extra elegance to your living room.
Rounded industrial coffee table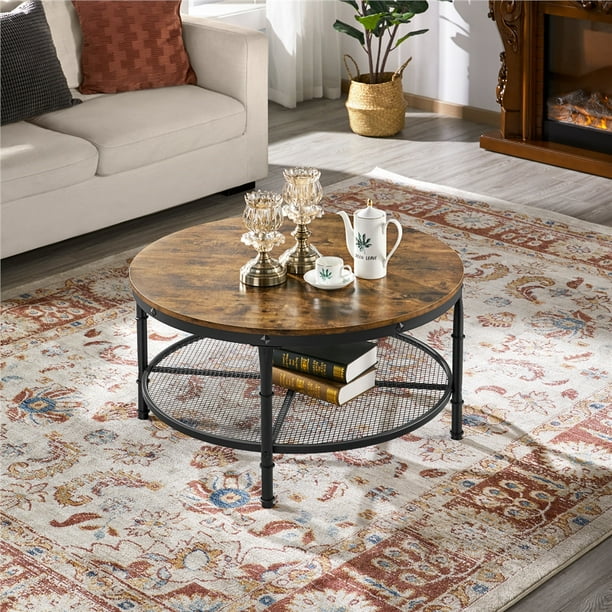 Via walmart.com
If you're into the industrial look, this round topped coffee table with metal piping for legs can really add a hint of contrast to the room.
Rounded painted plywood coffee table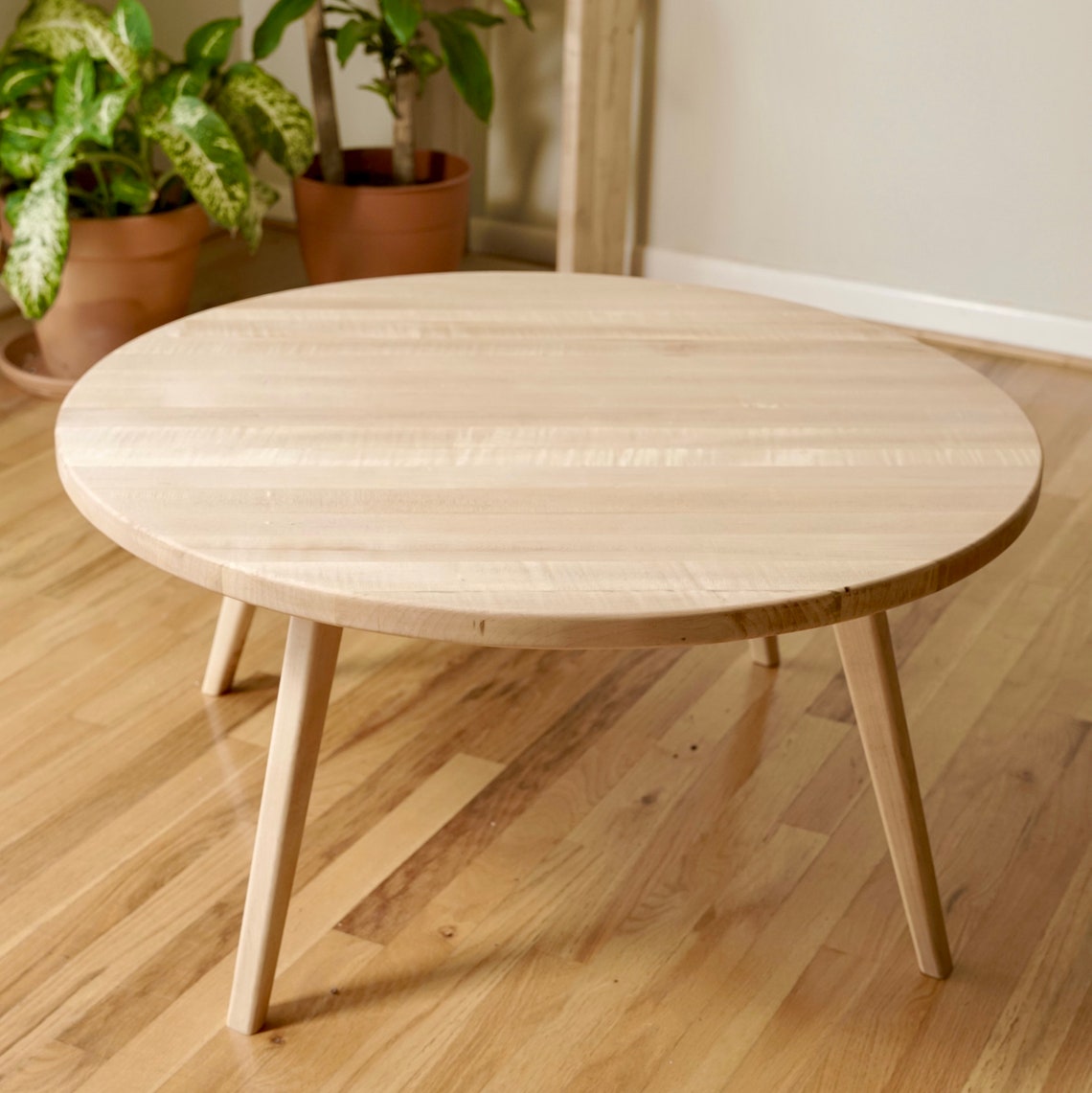 Via Etsy.com
This rounded coffee table with chunky plywood legs is the perfect beginners DIY project, and it can be made from up cycled materials for a very affordable price.
Dining table to a rounded rustic coffee table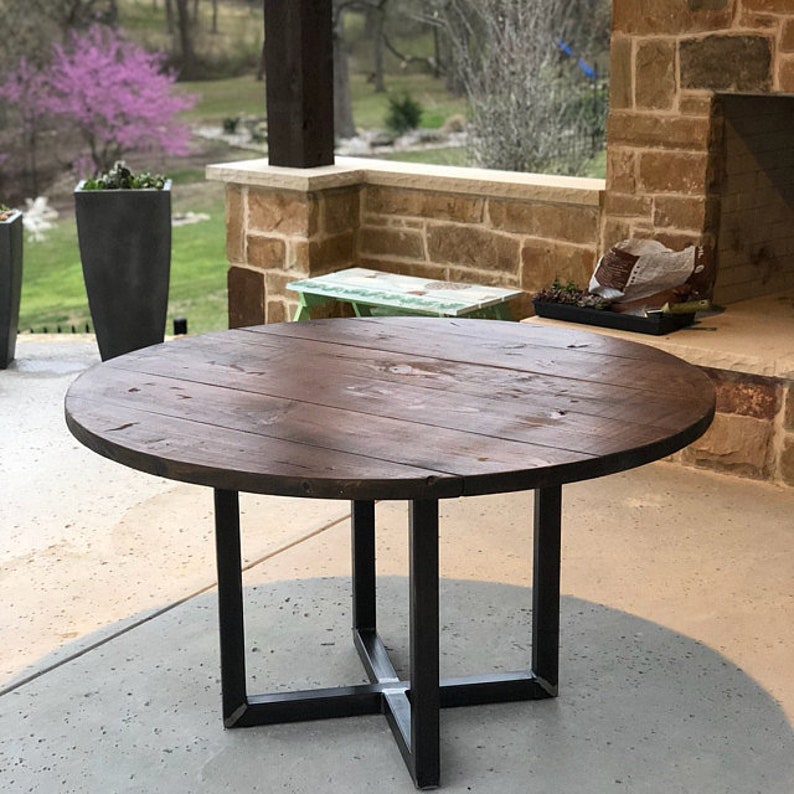 Via etsy.com
Another simple DIY project is this rounded dining room table that was converted into a coffee table. It gives plenty of surface area without you having to put in a ton of work.
Lightweight upside down wire basket rounded table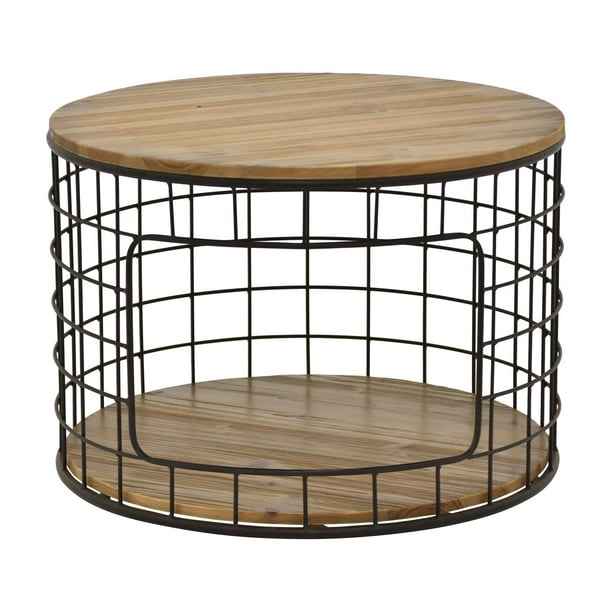 Via walmart.com
For something smaller, you can opt for a rounded table top and an upside down wire basket underneath. This will add a chic aesthetic and you can be creative with the color of the basket so it matches your decor.
Danish modern round coffee table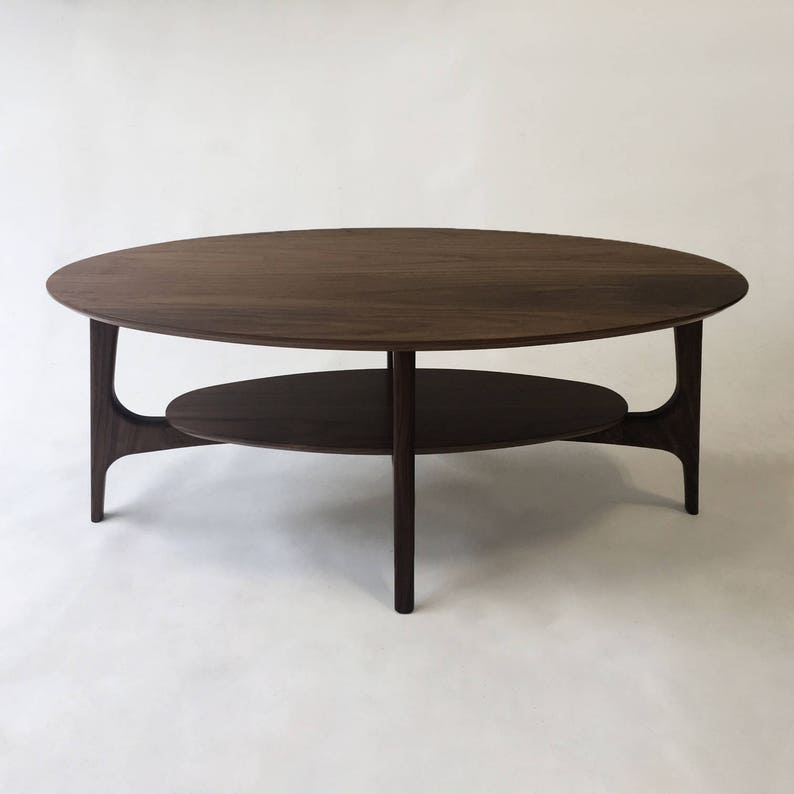 Via etsy.com
If you're into the minimalist vibe, this casual coffee table would be perfect. Its rounded top is held by three peg legs, and will add a smooth finish to the room.
Rounded coffee table with straight legs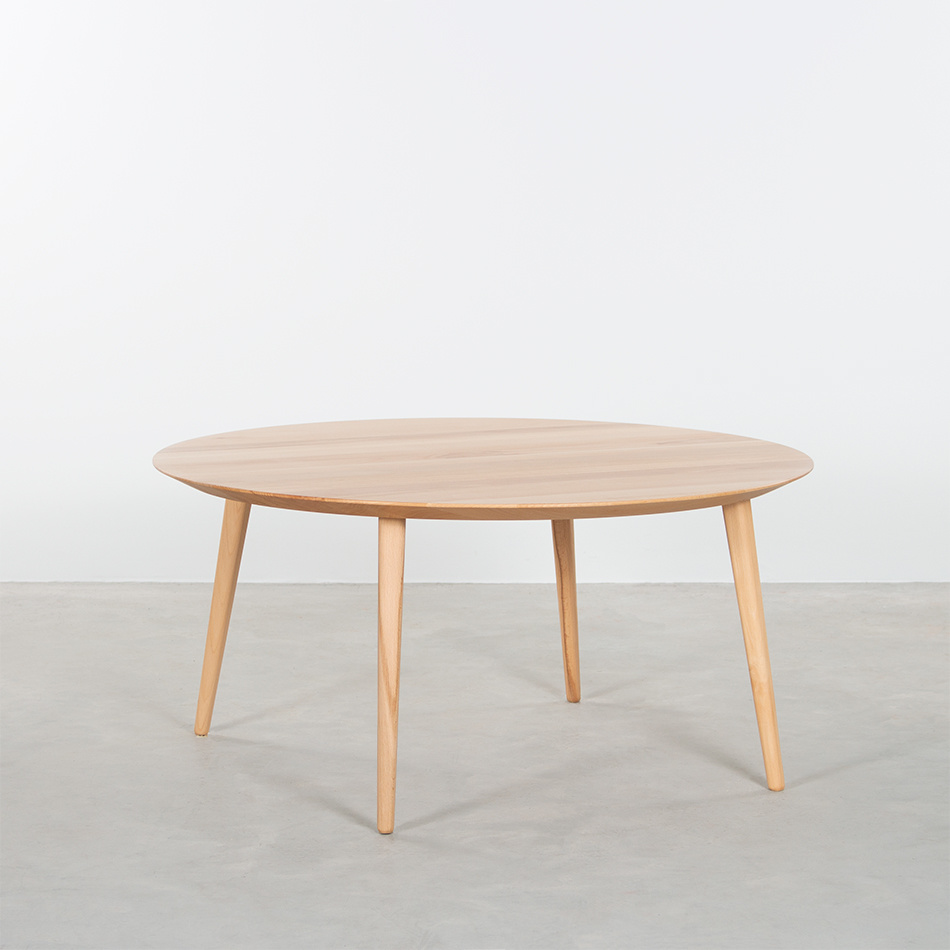 Via sav-okse.nl
Much like the last table, this rounded coffee table is for the minimalist. It's held up with four straight legs though, which makes it a little more sturdy.
Farmhouse Round Coffee Table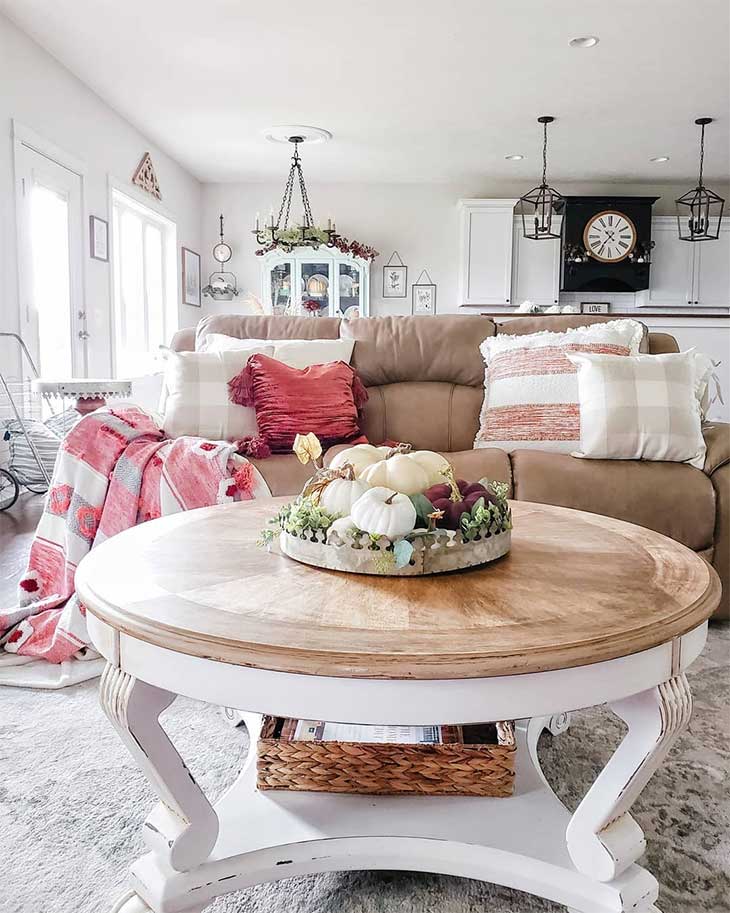 Via @truemanstreasure on Instagram
With this unique piece of furniture, you can incorporate any stand you'd like to compliment the base of the rounded coffee table. Keep it simple, or get a bulky bottom.
Hairpin leg Rounded coffee table Another simple coffee table is supported by hairpin legs. They're affordable, easy to install and they look great with any interior design.
X-carve design top coffee table
This elegant coffee table has an X-shaped base and an etched top. You can create any design you'd like, or find one you like if you're not very artsy.
Basic tiered round coffee table
Via hausheaven.com
A tiered round coffee table can add a nice touch and will look fancy if painted to match your room. It's two circular shelves are held up with four thick legs and any trim can be incorporated.
Pedestal leg round coffee table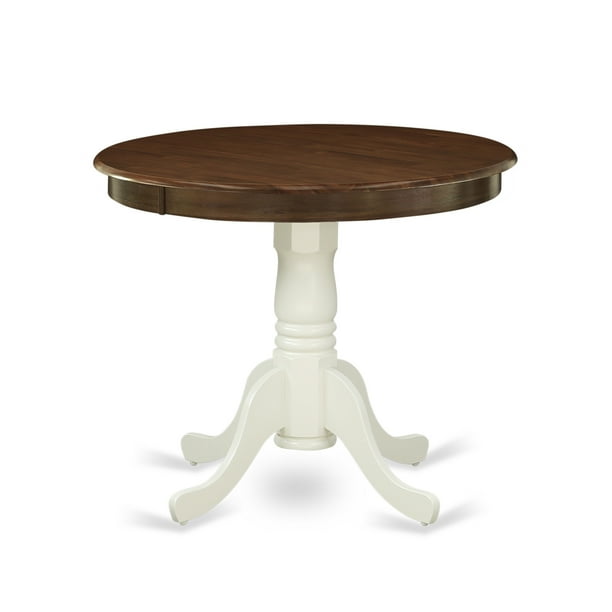 Via walmart.com
This table is build upon a four pronged base and sits low to the ground. It's the perfect centerpiece for a simple room.
Rounded X-base farmhouse coffee table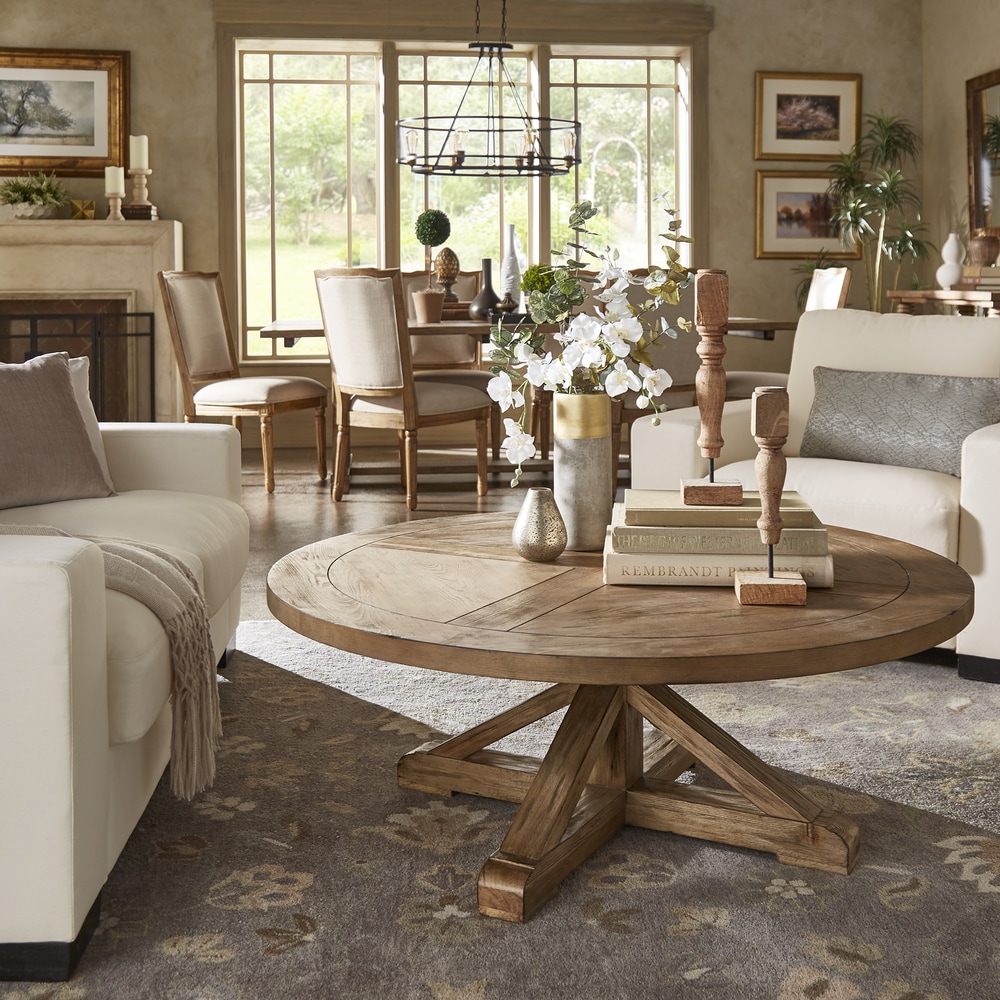 Via Overstock
A rustic rounded coffee table with a criss cross base will add a country feel to your living room and you can finish the wood in any shade you'd like.
There are tons of options for unique rounded coffee tables that will fit any decor. They give an elegant look and offer a different scene than you get from most living room. Also, many of these coffee tables could be a fun DIY project if you're crafty!
If you enjoyed this article consider reading some of our other articles by clicking here.