Introduction 
In the last few years, our world has changed dramatically. Due to the Covid-19 pandemic, people worldwide are under mandatory and voluntary quarantine, spending drastically more time at home consuming media entertainment. Naturally, many people experimented with home renovation projects to create comfortable and more efficient spaces within their homes. Since media consumption, such as watching movies and television shows, was such a popular pastime, the living areas within the home were first to be revamped.
But what if those remodels could be taken a step further? With so much wasted and unused space, the attic is the perfect room to renovate and create your very own home cinema. Instead of watching the latest blockbuster release on your living room television, surrounded by household noises and distractions, you could enjoy the whole movie theatre experience from the comfort of your attic cinema room. This is the ultimate guide to designing your attic cinema room. 
Prepare the Space For The Attic Renovation
Via modernbuilds.com
The first step of creating your dream attic cinema is to prepare the space. This includes cleaning out the existing attic of all the clutter built up over the years. If needed, make some repairs to the walls and floor. Apply a fresh coat of paint to the walls and ceiling. Make sure the color you choose compliments the aesthetic you are aiming for.
Use lighter paint colors for a more natural vibe or darker colors for a more authentic ambiance. Add some new carpets for extra comfort. Eliminate any additional light streaming into the attic through windows by covering them with blackout curtains. Once the room is ready, it is time to customize your ideal attic cinema room.  
The Screen
Attic redesigned by proAV, via hiddenwires.co.uk
For the main attraction, your viewing screen, pick the most extensive or most uninterrupted wall space to define your focal point. You want to choose a wall without doorways, windows, or other build-in nooks that may interfere with your screen. As far as the actual screen goes, you can go the more traditional route with a projector and a white screen; or you can go with the more modern option of smart television.
Ideally, for both options, you want to pick the largest-sized screen that will fit your space, however, keep in mind where the potential seating will start. You want to make sure you can comfortably stare at the screen for several hours without straining your eyes. 
The Seating
An Interior Design Project By Pavilion Broadway
Next, fill your new attic cinema with your preferred seating. You can choose recliner seats for a more authentic cinema experience, complete with a drink holder. You can pick a comfortable lounging couch that will provide more versatile seating, perfect for entertaining guests.
You can choose a sofa that doubles as a pull-out bed, ideal for the kids' slumber parties. You can add different-sized beanbag chairs or other unique accent chairs that suit your aesthetic. The most crucial factor here is to focus on your style and comfort. Remember, your attic cinema is a space for relaxation, and your choice of seating will be the most significant contributor to your level of comfort.  
The Attic Lighting 
Via newwaveav.co.uk
Lighting is another critical element that will affect the ambiance of your attic cinema. Keep the lighting in your attic cinema subtle. You want to illuminate your space enough so that you can see. Still, you don't want it to distract from the overall movie-watching experience.
Some subtle lighting options include wall sconces, string lights, LED or fiber optic lighting strips, and task lamps next to the seating spaces. You can mix and match your lighting sources to meet your aesthetic glow. Whichever you choose, make sure that the mounted fixtures are remote-controlled and incorporate the dimmer option.  
The Surround Sound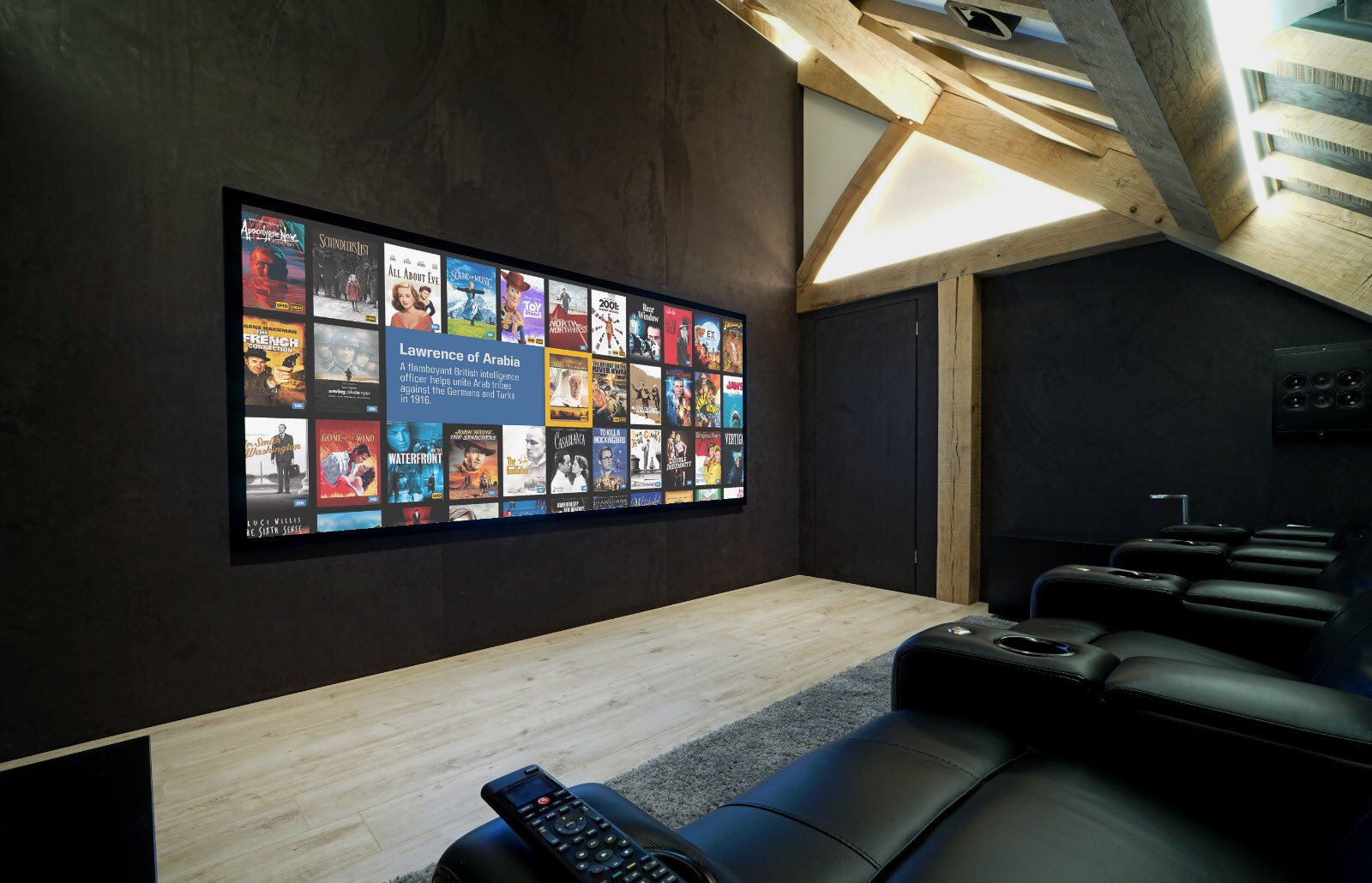 Via Bespoke Home Cinemas on Twitter
Your auditory senses play a vital part in the attic cinema viewing experience. Ideally, you want to be surrounded by the sound and feel the vibrations that the speakers emit. There are several home theater systems available at various budget points. You should be able to find the right system for your space.
As far as speakers go, you can choose free-standing speakers, wall-mounted speakers, or even go for the built-in speaker system. Ensure you have a designated space, preferably in the back of the room, that is out of the way for all the AV equipment. Many people hide their servers in a closet for the perfect, clutter-free space. 
The Snack Bar
No attic cinema is complete without a snack bar. You can utilize a built-in kitchenette or island to serve up your popcorn and drinks, or you opt for a more flexible serving cart. Make sure to stock up on all your favorite alcoholic or non-alcoholic beverages. Sodas are a popular choice and pair perfectly with popcorn.
Add some chocolate, candy, chips, and jerky to round off your snack bar. You can even include nachos and hot dogs to your attic cinema movie menu if you have the kitchenette setup. Don't forget the ultimate snack bar staple: a classic red and white popcorn vendor cart. After all, what is a movie without popcorn?
The Finishing Touches
Now that your attic cinema is complete with all the basics, it is time to customize your space even more. You can personalize your space with décor and additional activities. Add framed movie posters to the walls and extra rugs to the floors. Add a constellation projector so you can enjoy stargazing, even on cloudy nights.
If you enjoy playing pool, add a billiards table to your space. Add a video game station for all your favorite classics if you enjoy video games. You can even add a mini putting green. The opportunities are endless. Add things to your attic cinema room that bring you joy and aid your relaxation process. 
Final Thoughts 
Designing an attic cinema room is a fun and unique way to show off your style while creating magical memories with your family and friends. Your attic cinema is a space where you can reconnect your family bonds and practice some much-needed self-care. Your attic cinema is your sanctuary from the world, and your custom design will provide the perfect space to experience your favorite movies right from the comfort of your own home. 
If you liked this article, consider reading our other blog posts here